♠

The Shadowspawn

♠

The
Shadowspawn
are a rare subspecies of dragon, due to the nature of their formation. These dragons are created from trails of goo left behind by the Shadowbinder's tears in areas of immense magical energy. This energy infuses into the dragon, and gives it shape and life, as it forms into a young hatchling, and continues to grow into an adult dragon as it absorbs more energy over time.
Due to their formation's reliance on it, these dragons have a natural affinity for using and manipulating magic to their whims, making talented alchemists, mages, and healers. However, their body being made up of shadowsludge and not flesh makes it easy to heal, meaning they can also be quite useful as a niche form of warrior, designed to take and simply recover from hits, or messengers and scouts to more dangerous areas.
As these dragons were not born from eggs, they do not reproduce with them either - instead, Shadowspawn dragons will combine a portion of the shadowsludge that comprises their body with some of their partner's, and imbue it with an immense amount of magic, forming a new youngling from this goo. Theoretically, this may allow a dragon to clone themself from a larger amount of their own goo, however this will take a lot out of them, quite literally, to make up the necessary amount, and they would still need the help of another dragon, as the magic of a single dragon is not enough to give life to the slurry without draining them entirely, giving their life as well.
As all normal Shadowspawns have the same type of shadowsludge in their body, even artificial variants. However, due to Corpsebearer and Tangled Thorn variants being tainted with fauna and flora respectively, they don't have the same composition to their shadowsludge, and as a result can only reproduce with dragons within their same variant type and range.
While taking form, these dragons replicate not only the body shape, but the dragon's biology as well - this means that often, habits and diets common to a dragon breed tend to be mimicked in Shadowspawn that take shape as that breed. This means Ridgeback-formed Shadowspawn may end up with an irrational dislike of water, though not in all cases, or an Imperial-formed Shadowspawn could eat all foods while a Shadeborn variant, having formed like a Nocturne, could only eat Meat and Insects.
It's a little difficult to tell the difference between this subspecies and the dragons they mimic, but generally the dragons that see them will note something slightly off, though they may not be able to pinpoint what that thing is.
Due to the majority of lairs having all or almost all species of dragons, it's very uncommon for dragons to discriminate against other dragons. However, if the dragon already has an inclination to, the Shadowspawn are more than likely to fall victim to it, due to that subtle difference.
Rules wrote:
MUST have Shadow Eyes.

MUST be Midnight/Midnight/Shadow*.

MUST be Slime/Sludge/Capsule*.
*With exception of variants that specify otherwise.
There are a few sub-types to the species. Dragons may fit into different types dependant on their other traits.
True Shadowspawn wrote:
This sub-type is the purest form of Shadowspawn dragon. These dragons, in their formation, were the luckiest. Their environment in the Tangled Woods was perfect - plenty of Shadowsludge to imbue and coalesce, a large amount of ambient magical energy, and no outside influence or objects disturbing their form.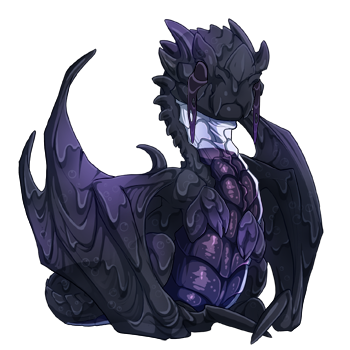 MUST be Nocturne.

MUST have shadow primal eyes.

Bonus points, but not required, if permababy.

Shadeborn Shadowspawn wrote:
This sub-type is akin to the True Shadowspawn, having formed in the Tangled Woods, but they either lack enough magical energy or enough Shadowsludge to form from, or another factor in the forest influences their formation, meaning they do not possess their deity's dripping eyes.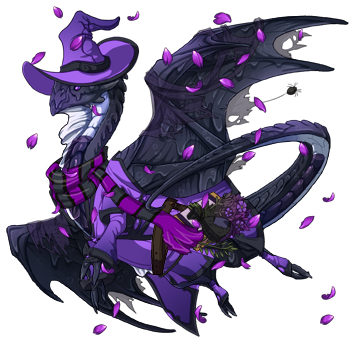 MUST be Nocturne.

MUST NOT have shadow primal eyes.

Bonus points, but not required, if permababy.

Regional Variants wrote:
These dragons originate in areas not within the Tangled Woods. This resulted in the breed they formed into being that of their area.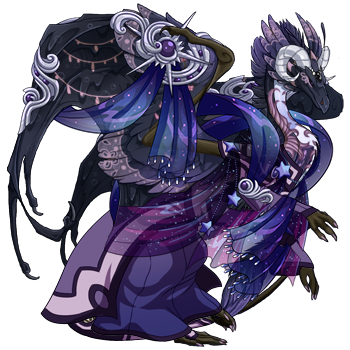 Can be any species except Bogsneak or Nocturne. Will originate in that species' origin area.

Bonus points, but not required, to have primal eyes.

Bonus points, but not required, if permababy.

Artificial Variant wrote:
These dragons were created from artificially embuing collected Shadowsludge with the required creation energy. However, due to being an abnormal development environment, these dragons take the form of the only artificial breed known so far.
MUST be Bogsneak.

Bonus points, but not required, to have primal eyes.

Bonus points, but not required, if permababy.

Corpsebearer Variant wrote:
This sub-type can present as any of the other forms of Shadowspawn, other than the True Shadowspawn, even with primal eyes. These dragons were formed the same way, with magic embuing the Shadowsludge, however they formed around the remains of either a dragon, a large familiar, or a cluster of small familiars. Due to this, there are pieces of these entities within the dragon, and may influence their personality towards that of the species within them. Their appearance may also be influenced by the species within if it is a dragon, meaning artificially made dragons could be other breeds, or they could take the form of a dragon not native to their spawn-region.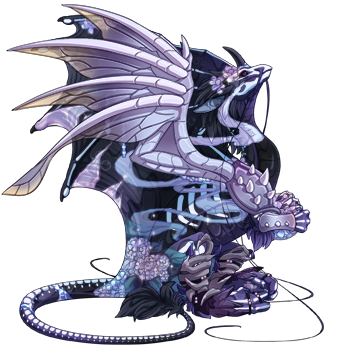 Can be any species.

Tertiary MUST be Ghost or Skeletal.

Tertiary MUST be in the range Pearl - Platinum, or Wisteria - Purple.

Bonus points, but not required, if shadow primal eyes, or another abnormal eye like multigaze or goat.

Bonus points, but not required, if permababy.

Tangled Thorn Variant wrote:
This sub-type can present as any of the other forms of Shadowspawn, other than the True Shadowspawn, even with primal eyes. While Corpsebearer variants formed around fauna, these dragons formed around the flora the Shadowbinder's domain is known for - that is, the tangled, thorned brambles of the Tangled Woods. These may have been carried to another domain by a dragon or the shadowy deity themself, and as such, may still form as other species. However, forming as a Nocturne is a much more common occurrence.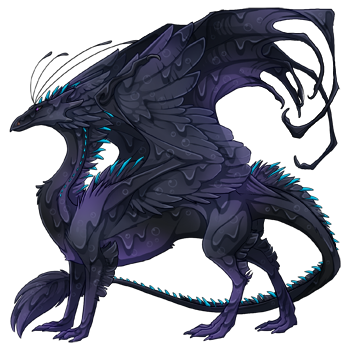 Can be any species.

Tertiary MUST be Keeled, Spines, Porcupine or Shardflank, or rarely, Blossom.

Tertiary MUST be in the range Ultramarine-Steel , or Caribbean-Spruce.

Bonus points, but not required, if shadow primal eyes.

Bonus points, but not required, if permababy.

In order to officially own one of these dragons, they must either be

purchased

with the official badge (I breed the subspecies), or requested in this thread to be made official, upon which I will PM you the code for the badge. The parents of this dragon do not also have to fit the criteria.

Breeding
Any two confirmed dragons may breed to produce offspring - if both parents have the badges, AND the dragons nested in a shadow nest, these are automatically confirmed, and can be sold with badge. This has one exception wherein any multiple-ranged variant can only officially produce with another variant in the same valid range, and they must be the same variant.

To prevent competition in breeders of this subspecies, and as a result potential arguments or loss of interest, breeders should keep a standard price when selling on the auction house. This price should mirror whatever mine are currently at, regardless of variant. This may go up and down dependant on sales, but I will usually alert all sellers if it does.
This can have exceptions as long as the sale does not take place on the auction house - For example, discounts from hatcheries/personal sales, taking an item for part of the cost, mixing currencies at a ratio other than 1:1000, etc are all fine.
However, these exceptions should not go up on the auction house as the 'official' price, or be the common price. (i.e. if everyone who uses a hatchery gets a discount, the subspecies should not be included. However if it's just for associates, for example, it is then fine as it is not the common price. This rule also applies for resold dragons, even if you don't breed them!

Official breeders are welcome to use this thread to post their hatchlings in the same way I do, and can use appropriate pinglists - however, the post must not contain an actual 'buy now' button, as that would put this thread in Dragon Sales, not Dragon Share. You can post an image link to them though, even if on the auction house.

There are a series of badges for official subspecies breeders - once added to the official breeder list, you will be sent the badge code for each variant you breed! These do not have to be on the pair of dragons with the main badge, or anywhere for that matter, but they can be displayed anywhere, including in hatcheries and on the dragons, though they are intended for your signature. If you require a larger size, PM me.



There is also a free signature badge for anyone who wants to support the subspecies! This does NOT make a dragon an official member of the subspecies, nor indicate a person is an official breeder. It's just for fun!