So I signed in on a course that should help me out finding a new profession, and I was really looking forward to it, but the interview with the person who's going to be our instructor left me just super anxious and unsure... I just got the feeling that our personalities aren't going to mix well and it worries me and makes me feel really anxious about it all...
To ease my anxiety, I'd love you to show me your Asian themed and inspired dragons and tell me about them!
I'm really interested in Asian countries and their culture, especially Japan!
I'll start off with mine:
Tenseiga

Tenseiga is my

kitsune

themed dragon! Kitsunes are foxes from Japanese folklore that possess paranormal abilities, like changing their form for example. They are intelligent and their wisdom and powers increase as they age. They're also often described being a bit mischievous and liking to play tricks on people.

His name comes from a manga/anime series called

Inuyasha

, where one of the characters carries a powerful sword with the same name. The name translates to "

heavenly rebirth fang

".
Jinmu

Jinmu is my

samurai

themed dragon! Most people have an idea of what samurais are, but just incase you're not familiar of them; They were the hereditary military nobility and officer caste of medieval and early-modern Japan. Samurais were the well-paid retainers of the daimyo (the great feudal landholders). They had high prestige and special privileges such as wearing two swords. They cultivated the bushido codes of martial virtues, indifference to pain, and unflinching loyalty, engaging in many local battles.

His name comes from

Emperor Jinmu

, who is said to be the first emperor of Japan. According to Japanese mythology, he is a descendant of the sun goddess Amaterasu through her grandson Ninigi, as well as a descendant of the storm god Susanoo.
Hanako

Hanako doesn't have a specific theme other than general inspiration from Japan's famous clothing: Kimonos! She's actually wearing a skincent called "

Summer Night Yukata

", which I made especially her in mind.

Yukata

is a more casual kimono that people usually wear during the summertime.

Her name translates to "

flower child

".
Kimchi

Kimchi has gotten her inspiration from, well,

kimchi

! Kimchi is a popular traditional Korean side dish of salted and fermented vegetables, such as napa cabbage and Korean radish, made with a widely varying selection of seasonings. Commonly used seasonings include gochugaru (chili powder), scallions, garlic, ginger, and jeotgal (salted seafood).
Nian

Nian's inspiration comes from Chinese mythology and folklore from a creature with the same name. Nian is a beast that lives under the sea or in the mountains. Once every year at the beginning of Chinese New Year, the Nian comes out of its hiding place to feed, mostly on men and animals. During winter, since food is sparse, he would go to the village, eat the crops and sometimes the villagers, mostly children.

Some local legends attribute the Chinese lion dance to the legend of the Nian. The tradition has its origins in a story of a Nian's attack on a village; After the attack, the villagers discussed how to make the Nian leave them in peace. Since it was discovered that the beast was afraid of the color red, people would put red lanterns and spring scrolls on their windows and doors. They would also leave food at their doorstep in a bid to divert it from eating humans

Yuyake

Yuyake is my

koi

themed dragon! Kois are often associated with Asian culture, especially Japan, due to the beautiful outdoor koi ponds.

Yuyake is Japanese and means "

sunset

".
I also have a breeding pair
Hanami
and
Yozakura
, who have got their inspiration for the
hanami
("
flower viewing
") tradition in Japan: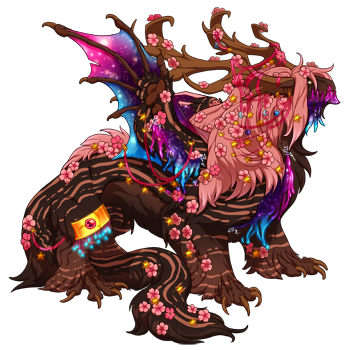 And I have these two dragons that are still heavily work in progress, but one of them will be a retired samurai and one will get his inspiration from the Japanese
kabuki
theater!