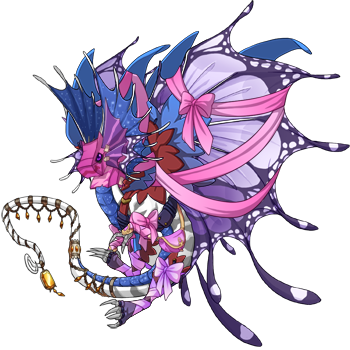 Daze
thought
he was pretty. "Everyone likes pink right?"
He wasn't too keen on fashion, and it shows. Yet, this morning he put on his best ribbons, clashing leggings, and tried his best to fix his crumpled paper mask (I guess it did look a little better). Using a sharpie, he made the smile wider. "Gotta look good for Krese!"
But he hid for a while out of nervousness, and watched a few dragons come and go. Krese was so... much larger than he thought! And beautiful! And a lot harsher to dragons than he thought... In Krese's confidence, his own one shattered.
But it's fine, he had a mask to hide his fear, right? Slowly coming out of his hiding place, Daze made a fake confident pose.
I live in a fae-rytale.