Not official lore. The below short story is strictly for Theme Week purposes.
---
"Heheheheheh."
The laughter reverberated through the misty forest, echoing maniacally into the distance. The trio looked at each other, worry etched on their faces.
"Heheheheheh."
The Nocturne's head lolled to one side, eyes wide with a smile that was just a little too wide for comfort.
"What do we do?" one of the three whispered in a shaking voice.
"We do what we were told to do," said the dragon in the middle. "We escape the lair and we hide."
"But...with...with…?" the third stammered, twitching its head in the direction of the giggling Nocturne.
Through gritted teeth, the middle dragon choked down a rising swell of fear. "Yes. They're our friend. We don't leave friends behind."
The three observing dragons reached out to each other, linking their claws in a chain slowly, as to not disturb their maddened companion.
"Something in the lair did this. We have to get them away from here."
"Heeheeheeheeheehahahahahaha…"
The Nocturne's giggling increased in pitch and frequency, head rolling towards the three, registering their presence. The dragon's grin grew wider, body lurching forward, claws grasping towards the other three.
"Heeheeheeheeheeheeheehee!"
The Nocturne suddenly leapt, falling upon the closest dragon, both bodies hitting the ground with a shriek. "Get 'em off me! Help, help meeee!"
The other two watched, frozen in horror as their Nocturne's talons wrapped around the fallen dragon's neck.
"Heeheeheehahahaha!"

Another shriek cut through their shock and the two remaining dragons threw themselves forward to save the third.
And then everything went black.
They couldn't see each other, they couldn't even feel the ground beneath them. The world was silent, save for a whisper of a song, dancing just out of reach. When the darkness lifted, their friend lay on the ground gasping, staring up at a swirling mass of tiny stars holding the mad Nocturne aloft. as they watched the feral dragon's face relax, drifting off into a deep slumber.
The stars gently laid the sleeping dragon on the ground. As the quiet song faded away, the stars rose into the air, and began shifting into a living constellation, the outline of a female Nocturne forming around it.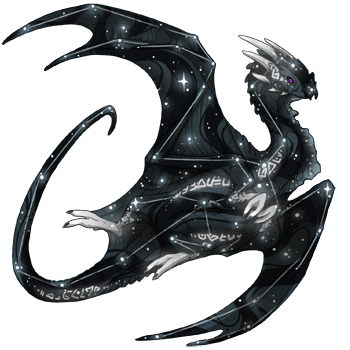 "My name is Shadowsong. Your lair has fallen, and at the claws of your own clan's Nocturnes," she intoned.
"Are they traitors?!"
"No, not traitors. They're victims of a creature we call a mimic. I've broken its influence on this one, but in order to save your lair, you must act. Sornieth is in danger and it will take every free dragon to save it." She waved a wing over the sleeping dragon below her. "This one will sleep here safely while you find and destroy the mimic."
"But how?"
"What a mimic lacks in physical strength they make up for in influence and magic. One of your clanmates must have come across a mimic when it emerged for this long night. To enter your lair, the mimic used their magic to bond itself to them. Instead of seeing the creature, your clanmate saw an item of great value to hoard. If you find that dragon, you'll find the mimic."
Shadowsong moved to each of them one by one, laying a single talon on their forehead. A different song whispered past each of them as she did. "Your Nocturne clanmates under the Mimic's influence will not see you. The one it bonded itself to...let's hope we're not too late." She paused. Then Shadowsong continued, her dark eyes filled with sorrow. "The non-Nocturne dragons in your clan are likely injured or imprisoned. Possibly worse. You mustn't allow yourselves to be distracted.
Find the mimic.
"
She rose up, her swirl of constellations blending into the night sky. "Move carefully, move quickly. I, or one of my kind, will return. If you succeed, we will be able to save your clanmates."
"What if we don't?" the dragon laying on the ground asked.
"If you don't, you'll be dead," Shadowsong replied as she disappeared into a cloud of night and stars.
The middle dragon looked back down at their sleeping friend and took a deep breath before speaking.
"Let's get started."
---
Not official lore. The above short story is strictly for Theme Week purposes.