@
marmaladedog
You know, friend, your lair is right in a sweet spot. I've found that somewhere between two and four pages, the image of a lair and the idea of the aesthetic it will keep really comes to life. Right in the middle of that, I see an excellent lair with a unique set of dragons. I see a lovely spread of bright colors and unique and generally under-utilized genes. Well done on that front!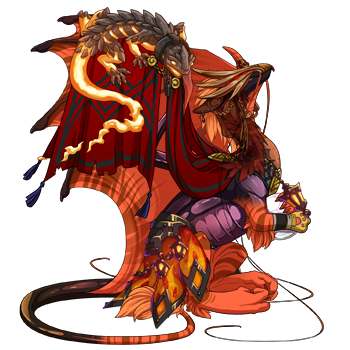 In the unique category, Magma's a lovely girl! I'm not sure how I would feel about Umber/Pumpkin/Pumpkin as a color scheme, but the slightest orangey undertones in her Primary reminds me of a campfire in the deep reaches of summer. Right after the sun goes down, but before the light is completely gone, she seems to capture that glow!
You've got a handsome collection of dragons with a wonderful sense of whimsy to them. Sivash, Sakura, and Moro are also just excellent. Also, real talk, I love the A Betta Experience on Nyte-- it's one of my favorite skins on male Mirrors. Ahhh! He looks so nice in it~
It was an absolute pleasure to look for your lair!
Stef

More text here eventually
C: