Im having trouble with dressing some of the dragons in my lair, maybe others will actually have ideas?
feel free to see what I write about them, or throw my words to the wind and do whatever you think'll fit them.
Seeking immediate help:
who knows
Hybrid Spikes
Nautic, 20197185
I kinda want him to wear armor? But I'm not sure what would fit? I mean the tarnished steel isn't bad, but I'm not sure if it really fits him?
i think i have something down for him?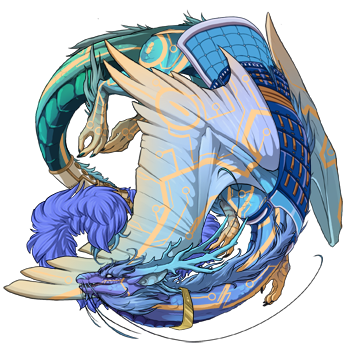 nereid
"Sea breeze", 19992408
an honest to god hot mess. Idk what im doing with her, I just threw together things that matched with her colors, as id love to keep in in blue but subtly reference the ivory? Kinda like I'm trying to w the crane stuff, but meh.
semi-practical beauty, deadly n delicate, i love it...
?
lagoon mist
Auroa, 19685302
one of her 'sisters' is getting a makeover so I kinda want to update auora's outfit as well, but… I have no idea what to go off of/how to dress her? She's a fighter? And also impulsive, I'm not sure if that helps in the dress up department tho…
auora and lev have left their
emo sister
in the dust, whoops.
overseer
Stonemist, 22002748
Right now, he looks like a mummy. It doesn't fit him, purse, but it works for now (because I don't know what else to dress him as). Stone's an organizer, and figures out which dragons work the best when fighting together, despite never fighting himself.
asking for help was the best, he looks
dashing
in glasses
guardian
Gwynne, 19973737
???? Who heckin knows at this point… I sure don't :/
ep! dont have the time to update this but i am playing around with something... ill be back when i can!
it was an adventure, but i rlly like what she has planned...
thanks for the look by! ;o;