WINNER'S ANNOUNCEMENT


Sornieth in Style Dressing Room Supplemental Thread



"I'll be right there!" a voice calls from a mass of dragons overhead. A sparkling golden Pearlcatcher comes shooting through a gap between an Imperial and two Spirals, then backwings to slow himself, and lands.

"Sorry about that," the Pearlcatcher says. "We've had a lot of dragons coming in for the celebration, and it's gotten a little hectic here. I'm Apollo, and I'm in charge of this contest."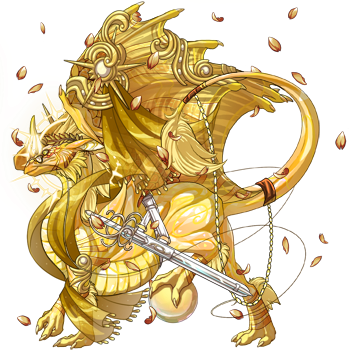 Apollo coils his tail tightly around his pearl and strides off, briefly turning back and making a gesture to follow.

"There's so much going on, so I don't have a lot of time, but welcome to the Sunbeam Ruins!" he says, glancing back. "You can wander wherever you want during the Jubilee, though I'd be careful of the Hewn City, of course. You wouldn't believe how many dragons have had strange things happen to them there, or just disappeared."

"Don't forget the group that got chased across the world by a ghost!" an Imperial rumbles from nearby.

"Yes, yes." Apollo nods his head from side to side. "There are many strange things about the Hewn City. Here, however, we have rules and order. If you'd like to participate in the contest, I suggest you familiarize yourself with them."

He lifts one arm and points ahead, where a large board proclaims the themes, rules, and prizes of the contest. He nods in satisfaction. "I look forward to seeing you participate!"