TABLE OF CONTENTS
A strange new "subspecies" of dragon has emerged on the lands of Sornieth, slowly spreading through various territories. Surprisingly adaptable and thoroughly cunning, these dragons are capable of thriving anywhere that food is available. They don't seem to have any elemental preference, as their versatility allows them to endure any harsh environments that Sornieth can provide; be it the bitter cold of the Southern Icefield, the arid landscape of the Highland Scrub, or the unforgiving nature of the Scarred Wasteland.
LORE
An odd and particularly disturbing affliction has overtaken these dragons--one that seems to have emerged from the Wyrmwound itself. Almost as if they had been taken over by melanism, these dragon's scales, skin, and wings have all turned dark and nearly pitch black. Their scales lose the original density they once had, leaving them very soft and loose. It doesn't take long for these dragons to lose their scales entirely, and be incapable of growing them back. The loss of hair, fins, and even spikes will also happen.
The most defining feature of this strange and gruesome virus is the loss of skin, which leaves the dragon's bones exposed for all to see. The most common affected sites on a dragon's body are usually the forearms, hind legs, and most notably, the face. While not entirely common, some dragons are left with more of their bones exposed, and on rare occasion, some dragons have completely lost all skin and are left as living skeletons. Wings are usually left intact, but are often prone to tearing if poorly maintained. Those afflicted and unfortunate enough to lose their ability of flight claim that this is the worst part of the disease.
The disease has been called Melanossein (Melanism + Ossein), and dragons that have contracted it are called Marorek (Marrow + Wreck (Name courtesy of GoldenFazbear)) Dragons.
The loss of skin is almost akin to any regular shedding, like that of a snake. Patches, and often even entire strips can be lost at a time, but unlike the usual case of shedding, no skin is left behind, or grows back in place of the old. It's as if the skin and muscles were never there in the first place. Due to this, these dragons focus more on keeping their bones strong and healthy, rather than fretting over their depleting skin and scales.
The source of Melanossein is unknown at present, the victims unable to pinpoint when exactly they started showing symptoms. Between the itchiness and the darkening color of their scales, they aren't entirely sure which was the first sign. While the disease is in fact contagious, it's not severely so. Prolonged contact, the sharing of food and close relations with an infected dragon can spread the virus easily.
Despite this rather horrific outcome, the dragons seem to be healthy, to the point of most of most their insides still being intact. The only organs that the disease seems to strike is the blood veins, which they seem to no longer need without skin, and the eyes, which has left a small few unfortunates blind. However, most retain their sight, with empty eye sockets and tiny, glowing white pinprick pupils instead.
Due to the loss of their muscles and skin, these dragons are left rather weak and defenseless, held together by cartilage, sinew and their own inner magic. As such, they are best to avoid confrontation--however these dragons are also very quick, tactical and cunning. True strategists at heart, they can find a way to get the upper hand in any battle... Should it come to such. These dragons invest quite a lot in armor and keeping their bones as strong as possible. However, it's increasingly common for them to become mages, over warriors.
These dragons are still perfectly capable of breeding. Most seem to have adopted a Plague-like mentality of thriving and spreading, and have therefore not given up on finding mates. Hatchlings raised within these clans are born with the condition, and often hatch with their bones already exposed. Usually the hatchlings' bones wind up much stronger than their parents, but they have the same chance of losing all of their skin and scales as they grow up.
Those infected fortunately do not go through much pain during the process of losing their scales and skin. The worst some have described was severe itching, which is usually accompanied by an immense amount of shedding. Some have found remedies to ease some of the itching, but it's only temporary and does not prevent any shedding.
Dragons that have been infected usually retain their original personality, but due to what the disease does to the body, they are usually rejected and banished by their original clans out of fear of it spreading. However, should they manage to find a group of dragons much like themselves, they are welcome to the clan with open arms. Some clans are more hostile towards those unaffected due to their past experiences, and have been noted to attack when anyone unwelcome draws near. some other clans are very welcoming... But keep their distance to avoid any possible vitriol or fear from arising.
Thankfully Melanossein can only be spread between dragons. There have been no reports of other creatures or familiars contracting the virus, or suffering any adverse effects by remaining with their masters. Companionship is still very possible for infected dragons that remain with their original clans, but have been quarantined.
The first two dragons that have been reported to contract Melanossein are Gashadokuro, a Spiral that lives up to his name, and Skelebella, a Nocturne who has embraced her new ghastly appearance. Both have changed their names after meeting one another, deciding that they should have names more suiting to their afflictions. Neither of them are sure how they managed to contract the disease, and found each other after being exiled from their original clans. The two of them are very close, and can be partially blamed for the further spreading of the disease.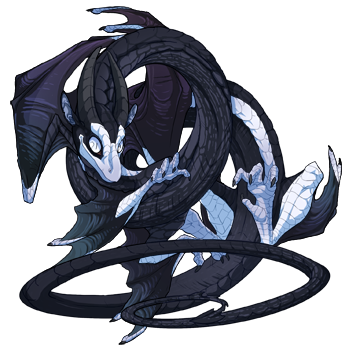 All the same, they can also be "blamed" for the positive environment
some
clans have taken on, as they encourage others to keep living on, not allowing the disease to stop them from living their lives despite their now haunting appearances.
Of course, this doesn't mean that all Marorek dragons are kind and welcoming. There are a fair share of infected dragons that are frustrated with their lot, or simply bear ill will towards other dragons. Many of them have adopted the superstitions that unaffected dragons have created, further spreading worry and friction between the Marorek and other dragons.
No known cure has been crated or discovered for Melanossein. A number of dragons have started to theorize that it is instead a mutation, rather than an outright plague. The true nature of the condition remains unknown, but it has caused a small uproar of fear upon its uprising.
Despite Gashadokuo's and Skelebella's efforts to be ambassadors, Marorek dragons have earned themselves the nickname, "The Black Death," for clear reasons.
Superstitions have run rampant, to the point where dragons consider the land that Marorek clans rest on to be cursed, infected by the Black Death that those dragons appear to carry. Stories of seeing a skeletal dragon claim that death would follow soon after--or that they too would fall prey to the Melanossein virus.
RULES
There is no registry at present.
Please be respectful and patient! Breeding cooldown is a thing, and so is life.
Lore updates will come when possible, and I will use the general pinglist when I make updates of this sort.
Be sure to look over the lore and the subspecies requirements carefully, especially if you want to breed more dragons to match this lore. The specified genes, colors and lore are what separates these from a dragon that just so happens to have a skeleton pattern on its hide!
You may make your own Marorek from scratch! Just make sure that it matches the lore requirements before adding the badge or lore to your dragon's bio.
Any user may breed and sell Marorek dragons, and I highly encourage you to advertise them on this thread. Please be sure to use the correct pinglist when doing so!
If breeding Marorek dragons, I highly encourage you put a corresponding badge in it's bio! This will link future users to the thread, and open up the possibility for lore for that particular dragon.
When selling dragons, you may price them how you wish. You may make them as cheap or expensive as you like!
Have fun adding lore to your dragons!! Feel free to share if you come up with something, new!