The raffle is closed and all winners have been chosen and received their prizes.
Status
:
CLOSED and DONE

Winners (in order):
Airys
InkyPetrel
Prey
Tatsunpi
Nryenth
Necrowmancer
starrynightren
Leyatres
steelplatedheart
Gogoat
Megan
Hawkmoth
RadioStar
IgnisFlamel
Talicinx
CrisDaro
squidkid15
Anamink
itMink
Gouldiae
FrozenStarlight
Naturalcyber
Katarra
fielkun
TheShadeTaken
RoseOfGehenna
Neltharygos
Syncogon
shadowsspy
Jakekitty
cactusbee
MidnightLady05
celtic7irish
Nigiri
Nanosaur
AristaHolmes
RationalParanoia
pyrascale
Proxima
LucarioLand
PhoenixEgg
Ryaith
Samarilee
Nemi


One winner have forfeited their win due to not responding within the given time.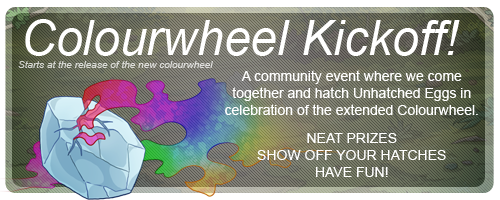 Welcome fellow Flight Rising enthusiasts :D
As all of you probably are aware of, we are getting an updated and expanded colourwheel sometime in the future. When it is officially released, this event will start!
What is this about?
I think a lot of people will celebrate the new colours by hatching Unhatched eggs.
Personally I love seeing what others hatch, since buying eggs is quite expensive, but it's always fun to see what the RNG has in store.
Therefore, this event is about
showing off what First Gen Dragons you hatch and maybe get prizes for it.
There is no catch, you get to keep your dragon and everything! Well, eggs cost quite much to begin with, so I guess that's the catch.
I'm not sure what forum this would belong in, because it's a third community-get-together, a third dragon share and a third FREE RAFFLE!
Please don't trade or sell eggs (or anything else) in this thread.

Thanks! :)
Link to where you can trade and sell eggs instead~
Event duration
8 - 15 June!
Before and after that, you may not submit dragon entries.
A total of 11864 tickets have been distributed during the event!
Even if you don't win anything in the raffle, you can brag with this fancy Achievement!
White background:

Transparent background: