About us
---
location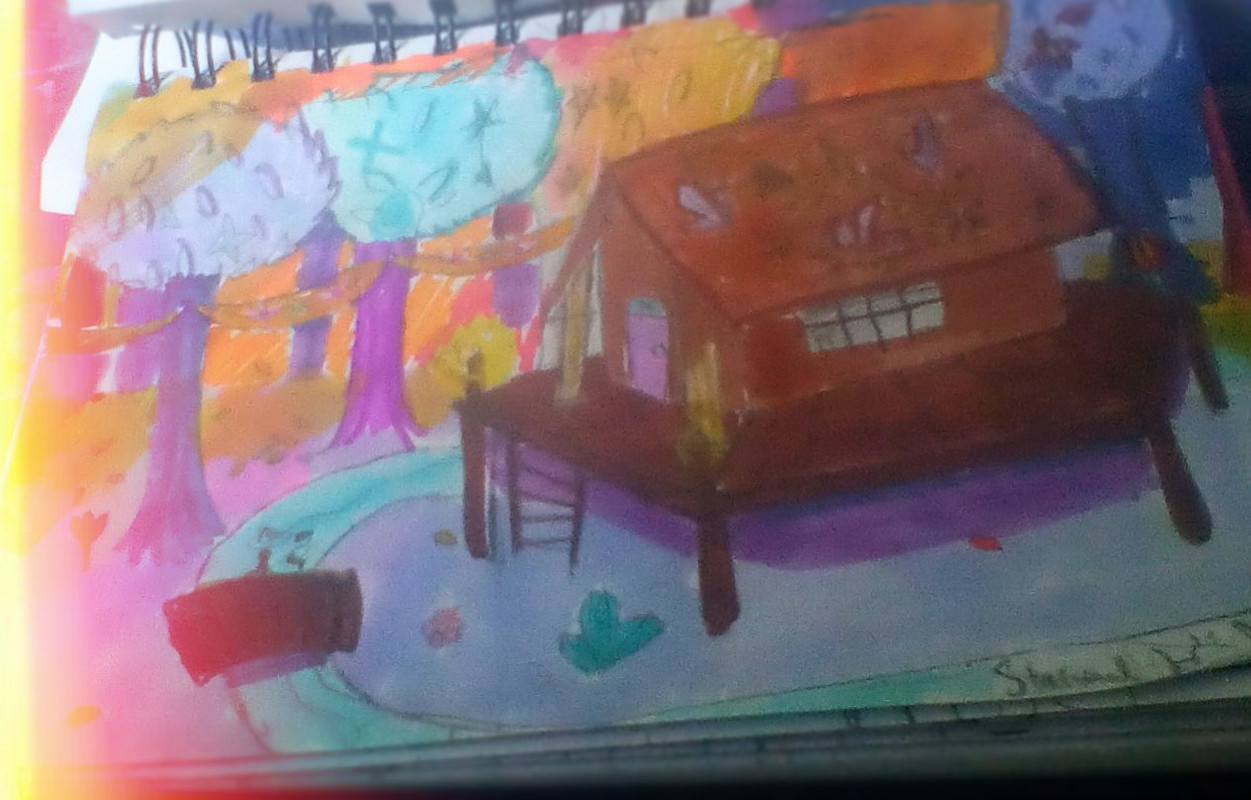 The tea house is in the depths of starwood strand, around
here.
Around it are the thickest of woods, and behind it are two more buildings. The tea house is designed as a little cosy safe place in the forset for those who lose their way. Around it is a little moat, and it's not far from a little village (imagine a Minecraft taiga village.).
The first house you see on the picture - the main tea house. Inside are two rooms- the cosy, big open room with armchairs, big windows and a large fireplace that is the tea room. It's got lots of tapestries on the walls and you can often find gretel(away at the moment) laying on the specials sign. Then through a teeny, fae-sized door to a cupboard is the petitte little kitchen where chocolate works. It's basically this-
But tiny. Like, in a cupboard.
Next is a slightly bigger building that serves as where the dragons sleep/ a hotel/ a clinic.
It has 2 overground and 2 underground floors. The top floor is where 3/8 of my dragons sleep. It's also where travellers can sleep. The floor underneath is the clinic, with little treatment rooms. The next 2 floors are cave- like space where 4/8 of my dragons sleep, as well as more space for travellers.
The last building is a one-way pink glass dome similar to the astrolodome, but miniature. It's a lab, and chymist will eventually have more info on that. A third of my dragons work here, and ashlin and chymist sleep there because they're the (lesbian) lab owners.
---
Produce, and what we do
| | |
| --- | --- |
| Well, as you can imagine, our first and foremost money source is tea. We have a tea house, after all. However we don't make tea for the money, but because doing it is what we love! More of our money comes from carefully growing and selling, crystals, flowers and tea, among other things, then selling it to people such as Crim and Pinkerton, who then bring it to the people. We love to find and collect little trinkets as payment or tips, the doubles of which we again bring to Crim for her hoard. Of course, we pay all our workers equally, no favouritism or anything, and we try to make sure everyone is happy. We get treasure and gems also from our little b&b thing we got, the clinic, and of course, the Lab. | |
---
Hall of Fame
Special mentions:
@
gillymydog
because you're the best gilly! We couldn't wish for a better friend, really we couldn't!
@
frame
for getting me to write lore without really meaning to! Thanks for that!
@
FAERIIES
because you're the first person i RP-ed with, so hi!
@
esmaymaka
because you're fun. And hi!
read before friending, blocking, reporting etc. Please! (Hopefully not the last one tho :)
(non-fodder) dergs from u are safe with me!
arcane is the best.
Change my mind.
(clan lore)
lore, art and more!
wishlist