History
Latterlig, born a Wind tundra, came into the world full of optimism and curiosity. He quickly met Sjel, and they became good friends.
They started their clan in the Wind flight, taking in wandering dragons and giving them a home. They had their own children, Ocean and Meadow.
The clan moved to Light; Latterlig felt more at home in the pine forests and marble columns. They properly settled in and founded Hagebyen, and Latterlig bought a nocturne breed change! He enjoyed the new breed, but missed his sense of smell.
After a long, peaceful period of living in Hagebyen, one of the mages received a vision of the future: an ancient breed returning to Sornieth. The clan prepared for any new arrivals with baited breath; excited and scared. They didn't expect their founders to transform overnight.
As gaolers, Latterlig and Sjel flourished. It was as if all along, they were meant to be this breed. They had another son, Fang, who became the clan's official messenger.
Personalities and Relationships
Latterlig can be socially awkward, but he is very loving and friendly. His tundra roots make him welcoming and open-minded, with a strong sense of justice and morality. He loves all his descendants and brings them gifts often.
He and Sjel are also partnered with Slater, a jumpy imperial with a heart of gold. At first the dragons of Hagebyen were wary of him, but he's proven himself to be loyal and trustworthy. Latterlig and Slater have one daughter, Endor, who radiates just as much positivity as her fathers.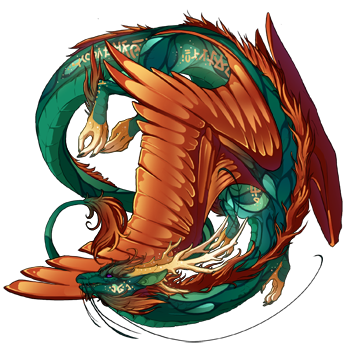 Sjel has always been excitable, and wears her heart on her sleeve. She spends most of her time with Hagebyen's mages, helping with the training of apprentices and sharing news with old friends. She loves to go out gathering, and often takes family members with her.
She's a hopeless romantic, and when Slater joined, she spent all her time getting to know him and doting over Endor after she hatched. She will talk
anyone's
ear off about the latest happenings in her family.
Details
Latterlig is a queer trans man. Sjel is queer and genderfluid. They are both polyamorous!
Latterlig is autistic and schizophrenic. Sjel is psychotic. Slater has ADHD, but often is the one to help them with any mental health struggles.