Death and destruction! Decay and defeat! As misery blooms, we are complete!
"What kind of backwards society lives in fear of their end, when it is so inevitable? Let us celebrate the unknown, let us welcome our downfall, and let us praise our agony!"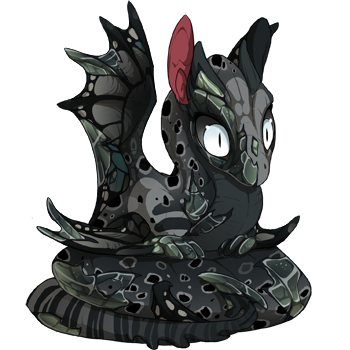 Speakers for Death
A Sornieth cult
Who on Sornieth, in their right mind, would support a group that holds such barbaric, chaotic, and dark values?
This is a question we think many of you might be asking at this moment.

It is understandable...! You do not understand the true nature and embodiment of what misery is, so you reject it. Not an uncommon trope; I'm sure our fellow Plaguelings can relate to the feeling. When you do not understand something, and its' first impression upon you is malevolent or disgusting, you throw it away. Not a problem! We will teach you what the phrase "death and destruction" truly holds in its' meaning, and perhaps also teach you about the Righteous One who brought forth these ideal-changing values and blessed Sornieth with her darker, and yet more sincere wisdom!

In our accepting and loving group, there are only a few rules which you must cater to. These are here for your safety and benefit, laid down by the Righteous One to ensure no one is re-brainwashed back into the hopeless light that the rest of the lying Sornieth offers!


- Respect and follow all that the Righteous One has to say.

- Offer polite regard to your former gods to keep on good terms, but still know that your underlying faith is all devoted to the Righteous One.

- Do your best, in conjunction with other Speakers, to teach outsiders about what the Righteous One has passed unto you, to save them from the lies as well.

- When death or tragedy occurs, do not mourn; instead, remain joyful and optimistic, and know that such happenings are signs from the Righteous One.

- Treat outsiders with courtesy, but do not pay much heed to their oblivious ramblings of the supposed graciousness of light, hope, and comfort.

- Love your fellow Speakers like they are your brothers and sisters, but acknowledge that the Righteous One may at any time claim them, so do not form ridiculously strong bonds with one another.

- Praise death and misery, and if a place seems to radiate too much blinding happiness, you may take it upon yourself to remind them of the truth in any way you wish.


- Added thanks to a particularly insistent dragon: NO, URI, OUR MORALS ARE NOT DERIVED FROM PLAGUE. THEY ARE ABOUT SURVIVAL, WE ARE ABOUT DEATH. GOT IT?
---
Members
---
Ex-Members
---
Deathscendants
---
Deathscendants -*- Subspecies -*-

Rumored to be coalesced from sprinkles of torment and hardship that Ominous leaves in her wake, these creatures spread destruction more adamantly than non-oriented members, as it is hardwired in their biology and runs in their black blood to do so. They can be convinced to abandon Ominous and her group, but will still experience a deep, biological drive to wreak havoc on everything around them. It is immensely difficult to convince any of them to give up their philosophy, and hard work is required to keep them out of it.
Deathscendants are the subspecies for this cult, and while the requirements listed for them do apply to them, absolutely any dragon can be a member regardless of their genes.
Requirements:
XXX Obsidian

Can be any breed, element, or gene.

Scried examples:

---
Location
Speakers for Death are scattered all across Sornieth, but the main home for the cult resides on a few close Shadow islands in the Sea of a Thousand Currents. (Picture will be released when the new World Map is installed.) The compound is actually not aboveground, but instead is comprised of winding tunnels below the surface of the islands. Its' entrances are hidden among rockpiles, behind waterfalls, under grass-covered trapdoors, inside of false trees, and many other random, fairly unassuming places. This is so that outsiders who disagree with the Speakers' morals will not be able to easily find them to attack them.

Even if the tunnels are somehow found, any dragon unfamiliar with the paths could get lost, or worse, murdered by anything lurking in the depths of the caverns. All the tunnels are shadowy and made of stone, but if one followed them deep enough and along the right path, they would find an area with dark green and black vines creeping along the walls. Shadow eggs, unable to be hatched, would be strung up to dimly illuminate the place in an icy blue light.

There are many cramped "sleeping areas" where beds are stacked on top of each other, for cult members to rest their heads. There are also even restricted rooms where shadows are allowed to converge without interference, with the goal to create unthinkable monsters of death and silhouettes. These creatures are locked away in their chambers, rumored to have the intent of being released upon the land when the cult is strong enough, to wreak havoc on any who did not convert to the Speakers' ideology in time.

Ominous herself does not live on the compound, and instead resides deep in the Sea of a Thousand Currents with a single, asocial Water Clan to protect her. However, she visits it frequently, and hopes to someday move there once support for her has grown enough to leave the protection of the Clan behind.

Members are required to visit the compound three days a week, and are told that, once Ominous begins living there constantly, they will have to as well.

---
Admittance
Ominous has set aside a single day every week for what she calls "Admittance." Happening every Wednesday (a day viewed as blessed, for it was when she was born), Admittance is where every cult member is absolutely required to come to a particular room in the compound and tell stories of what has happened to them since they last met with the rest of the cult, as well as ridiculous things they have heard outsiders say, so they all can have a good laugh.

The Speakers for Death acknowledge that we all need a little lightheartedness in our lives, so we will achieve that by humoring what the brainwashed outsiders say in their hopeless lives. They encourage members to come forward, and tell about anything strange that may have happened to them recently. It could range from something funny an outsider said, to a long tale about an experience with worldly dragons or the like.

Admittance also gives a chance for newer members to inquire about false teachings they may have in their head from their days of confusion, so that other Speakers can dismiss any propaganda or wrong beliefs they may have and provide them with the truth, also bonding closer all Speakers without going too overboard in relationships.

We invite you to join us every blessed Wednesday to hear the stories of others as they tell of their strange experiences - we also invite you to tell us of your own!

---
Reformation
No matter what Ominous and her dragons do, there will always be others who dissent the cult. This is something the leader has accepted as fact, and she has laid down practices to engage in when dealing with naysayers. There are two different types for two different people:

- Dragons who have never joined and are critiquing from the outside

- Dragons who have been on the inside and criticize with that knowledge

The former and the latter are vastly different and require different techniques to deal with them.

For dragons on the outside, the approach must not be hostile. Remember that they have been brainwashed to love kindness and hate death, so you must approach them with the former before speaking to them about the latter. This can be done in several steps:

1) Gain the outsider's trust in a worldly way. As much as it may feel unnatural, talk to them about casual things, talk to them like you were one of them. Avoid bringing up life, death, or your own morals for a while. If they constantly bring it up themselves, they are not worth saving and you can forget about them.

2) Begin bringing up death in small conversations. Talk about what the Righteous One is teaching to you/has taught you, and educate them about it as well. Mention it in passing in regular conversation as many times as you can without completely driving the target individual away.

3) After a while, especially if they appear to be feeling more at ease and more usual with how often you talk, start bringing up death as a topic of conversation. Start debates and discussions on it, asking how they feel and debunking it. Begin adamantly teaching them about the Righteous One's ways.

4) As the last three steps add up, one of two things will happen: The outsider will reject your teachings, proving that there is no merit in future attempts to teach them, or they will accept the Righteous One's teachings and join you as a Speaker. If they reject what you tell them but say they still wish to be friends or acquaintances, deny the offer. This is their offer to brainwash you. Do not let them poison you.

Now, the harder part is dealing with a Speaker who may be currently questioning the morals of the Righteous One, or anything else that she may say. Rest assured that, though it may be emotionally harder for the Speakers who know them, it will not be as time-consuming and complicated as what was explained before. It only comes in two steps, and the second one is only required if it gets dire.

1) Talk to them constantly about the Righteous One and how great she is. Talk to them constantly about the Speakers in an attempt to reaffirm their morals and show just how strong you want their loyalty to be. Make your conversations sound casual so they do not feel like they are being forced back in.

2) If they do not show a sign of relenting and even begin talk of leaving the Righteous One (at this point they might also even encourage you and others to leave them) distance yourselves from them. Report them to the Ominous, and let her, along with her loyal Deathscendants, deal with the defector. They may disappear from your daily life after you have notified the leader, but this is no reason to panic. The Righteous One is simply reforming them in her own way. You don't need to know what she does to rectify them, just know that the terrible, hopeless thoughts they are having are being addressed now.

---
Pinglist for possible updates

@/ghostlyplants
@/saltedsnails
@/Bast6415
@/Silverpelt60
@/Quilava2010
@/Mnkn10
@/PinkyDaPinkSlime
@/ghostlyplants