[IMG]Banner Here[/IMG]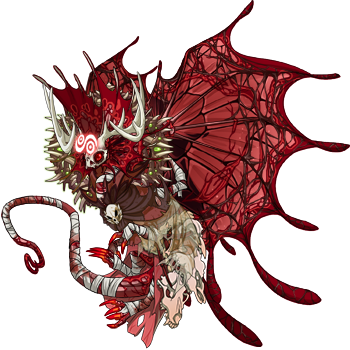 A tattered Fae had fluttered up to your direction, stopping himself right in front of you. He smelled of rot and decay, his vein-covered wings beating the scent around him and sending dried blood falling to the ground in small flakes. His metallic hide shifted beneath his bloodied bandages, rattling the bones tied around his waist. Deep red eyes gazed upon you beneath his skull, burrowing down into your very core with an uneasiness that couldn't be shaken off.
"So, you wish to learn more about the Cult of Anguish? Very well. Learn from what you see, hear, and experience. But, tread carefully, stranger. We'd hate to see you as the Maiden's main course. Ha, ha..."
--
Warning! Read at your own risk!
The following lore includes themes such as: Dark, Implied Gore, War, Destruction
Triggers Include: Body Horror, Physical and Mental Manipulation
--
Table of Contents
Origin Story
Directory
Map
Reserved
Reserved
Reserved
Reserved
Allies and Enemies
---