(Short-ish. Because I'm tired and wasting my life on webcomics XP)
Day 123:
Myu woke up in a daze, something wet that numbed his scales smeared over the wound in his neck. He sat up slowly, blinking black spots out of his eyes. He was still in the forest, the trees looming far over his head and plush grass beneath his talons, but it was infinitely more peaceful. The savage, bloodthirsty beasts had gone, and the uncanny chill in the air with them. The guardian felt much safer now with the creatures of darkness completely out of sight.
He spotted Fable curled up near his head, the nocturne's small body still and looking very small. Something was off about his scales, darker in some patches and lighter in others. The young dragon seemed barely alive, the rise and fall of his tiny chest the only thing betraying life. Myu exhaled in relief, feeling a warm feathery bundle squirm comfortably on his back.
Oliver fluttered almost soundlessly to the ground moments later, his soft brown eyes gazing up at Myu with affection. The guardian rumbled happily.
"Hrrrrrr."
He said quietly, tilting his head curiously at Oliver. The owlcat twittered back, his wings twitching in response. Myu turned his head and finally surveyed his surroundings.
There was a massive, lanky ridgeback stationed a few feet away from him, hunched over something and a look of concentration on her face. Her claws glowed with familiar pale yellow runes, moving fluidly with trained expertised across bandages and unknown salves that littered the ground around her.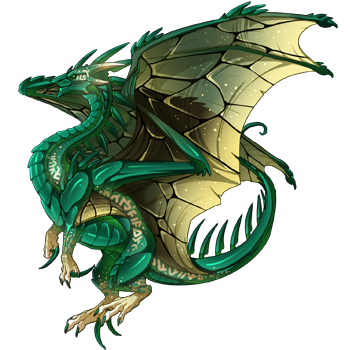 Seraphim rested on the ground beside her, a bandage wrapped tightly around his head and one of his wings bent at an odd angle. The fae watched raptly as the ridgeback worked her magic, his golden eyes reverted to the way she effortlessly healed the feverishly bleeding dragon in front of her.
Myu did a double take. He would have leaped to his feet if they hadn't felt like dead weights strapped to his body. Fletcher was splayed out on the forest floor, completely unharmed except for the brutal slashes obscuring half his face. The ridgeback was doing everything she could, dabbing at the wound with several different clean cloths and replacing the bandages every few minutes to add a sort of healing mixture, but it didn't seem to be progressing much.
Then a few vague rustling sounds and footsteps drew nearer and jade popped in, including a massive owl with armor shielding most of its body with an intelligent look in it's large eyes. The ridgeback shifted her gaze to the two of them expectantly.
"Did you find him?"
She asked in a soft, steady voice. Jade shook her head, her face falling in dismay.
"He disappeared."
She murmured weakly.
"Sierra, what if the creatures-"
"I'm sure he's fine."
The ridgeback interrupted, turning her focus back on Fletcher.
"This one needs more care at the moment."
Myu suppressed a small whine in his throat, feeling his fins pressing themselves flat against his skull.
"Will he be alright?"
Jade asked in a hushed whisper. Sierra shrugged.
"Worst case scenario, he bleeds to death."
She murmured.
"Best case is he loses an eye and the left side of his face."
Jade gulped nervously.
"Can't you heal him?"
She asked nervously. Sierra shook her head.
"Even my level of skill couldn't alter the outcome of this."
She explained sadly.
"But whatever happens."
The ridgeback added in a quiet voice, almost too soft to hear.
"I will try to keep him safe."
---
@AmberHive @mayanaz @Spottedleaf125 @Skyeset @Moon314 @WildRose42 @CleverDual @Firedawn @Dragondreamer @Shadow104 @ScaledBookworm @LuminusPrime @Dragonfruiteen @DragonMist @Shadowhunter43 @Digimon11 @Avu42 @MythicalMemeLord @Vyxen @VioletEevee @Verdant @Sanddollar @Faolyn @Bluebirdi3 @ThornOfStorm130 @ObsidianMage @Petall @TropicalDiamonds @fenshae @Birdleap18 @SpiceCookie @Catkidemma @WOF2012 @L1llysage @RiaFire11 @shirotsubaki6564 @TruthandLies
New temp dragon. Again.
Yay.