The Rekhanci Kingdom
The Frozen Archives
---
---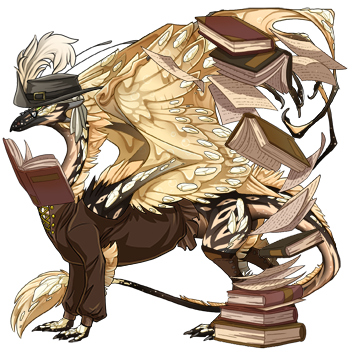 In a room of browns and yellows—and pale blues, if you consider the ice—a skydancer of the same colours sits nestled by a scratched and chipped oak desk, hands covered in ink and feathers just the same. Eyes of summer-touched grass blades flicker across a piece of parchment paper he furiously scribbles on, his scrawl no doubt horrifically messy at his haste.

He does not look like an archivist to you, but perhaps he is simply filling in. Nothing can be said about his need to write, though, and so you approach the skydancer with mild uncertainty.

At the sound of your footsteps, the skydancer stops mid scrawl and blinks up at you; surprised, no doubt, to have his trance so suddenly broken.

"Oh, hello," he says with a hard-to-place accent. His voice is both quiet and loud, the kind that is used to speaking in wide space but is forced into softness by the silence of the room. "Are you here to request a tome? A scroll?" He places the quill he was writing with down, the tip dripping a single spot of ink onto the counter. "The archives offer many interesting things to read, no matter the reader."

A curious dragon he is, you decide, but you are here in the archives for a reason. Not a specific reason, mind you, but you wished to see it for yourself. Little more than that.

The skydancer studies you closely. "Perhaps you wish to just wander at your leisure? Adventures, I hear, are best when there is no destination." He grins kindly at you and waves a claw in the direction of the towering shelves, the tops of which barely reach the yawning cavernous ceiling above.

When the skydancer picks up his quill once more, you consider it as good an invitation as any to simply get on with it. You suppose you can spare a moment for some light reading.