Banner by @raeofsunshine!
I don't do pinglists!!
(apart from one for new pairs)
Hello and welcome to the
Godswood
, one of the last homes of the Weirwood trees in Westeros. It's a quiet place where one can rest, pray or speak to the white faces of the heart trees. Thanks for stopping by!
Make a reserve by posting a reply in this thread! Please include eye colour preference and gene/colour combination preferences if applicable, otherwise I'll ping you for any hatchling born to the pair. To see which dragons I currently have for sale, please check the For sale tab of my lair.
Rules
By posting in this thread you agree that you have read and understood all of these rules.
1. We're all mature people here, so please be kind in general.
2.
All dragons, regardless of gene/eye rarity, are a flat price of 15k treasure through the Crossroads. Reserving is free, just post a reply here or PM me to breed the pair for you - no deposit is required and you should only pay when you are receiving the dragon you want.
The reason I do this is because the thing I enjoy most on FR is helping people get dragons they love. I don't want price to be a barrier to that.
3. Hatchlings must be chosen within 48 hours of you being notified that it's your turn to pick, unless I'm notified that a hold is needed. If you're unable to do this, your reserve will be carried over onto the next clutch and the hatchlings will be offered to the next reserve on the list or to the AH. Reservations will only be carried over once unless I've been asked, in the interest of preventing inactive reserves.
[Added June 3, 2014]
Additional information
- I often only breed my pairs on request since I have so many, so
I don't do pinglists apart from one for new pairs
, but since I don't take any money up front and you're never obligated to buy a hatchling, a reserve is pretty much like a ping list here! This helps me note exactly what you're after, and really tailor the breeding experience to your needs - you know that this pair is bred for you first and foremost, with the eye colour and gene/colour combinations that you specify.
- Reservations are first come first serve.
- If you're unhappy with the offspring, you can move your reservation over to the next clutch. This can be done as many times as you want.
- By default, most hatchlings will have the
medium-green eyes of the Nature flight
, but I am happy to rent a nest to give your hatchling whatever eye colour you desire - just ask!
- Members of the Nature flight (
Glory to the Gladekeeper!
) get a
10% discount
! Be sure to mention your flight while reserving or buying if you qualify.
- If you want to exalt a dragon you've bought from me, go for it. It's your dragon! However please,
please don't buy my hatchlings and then immediately resell them for a big mark-up
. I don't want people to take advantage of my kindness to make massive profits because I set my prices deliberately very low. It would be wonderful if you would pay it forward and sell your dragon for a comparitively low price as well if you don't want it any more.
- Please read all of the above information before purchasing or reserving!
Affiliates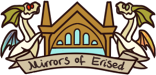 [
The Mirrors of Erised is an elite hatchery that sells beautiful and affordable dragons to the entire Flight Rising community. It specializes in goldenrod and continually progresses to improve its pairs. Free dragons are a unique feature of this hatchery, so being on MoE's ping list is a must have for any dragon lover!
]
[
Mortician's Hatchery is a spooky hatchery with a focus on dark, scary, gothic, and sometimes even cute dragons!
]