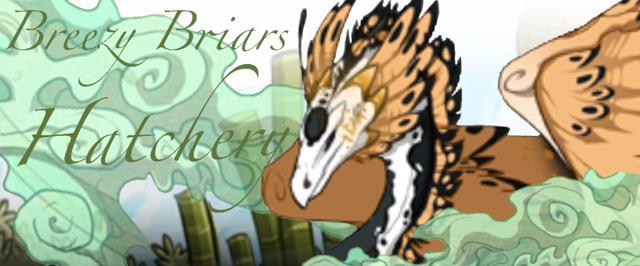 You are greeted by a small female Skydancer. She introduces herself as Salem.
"Hello!" she says. "Are you here to adopt a hatchling?" She waits for your response, then continues talking. "Wonderful! We have many delightful hatchies to choose from- oh, what? What does that mean, you say? Oh, 'hatchies' is what we call our hatchlings here. Anyway, feel free to take a look around! You won't be able to resist those beautiful green eyes!
Rules
1. We'd prefer if you refrained from exalting our hatchies. Our goal is to find them forever homes.
2. Users Lipa, Veloci333, and SkyGlider are given 24 hours to claim any of the hatchlings they want. After this 24 hour period, the hatchlings will be listed. (Note: These users still have to pay, but they are given a 15% discount.)
3. If, after a week, the hatchies are not sold, they will be exalted into the service of the Windsinger. Edit: Unless I feel that they are too unique/valuable to do so. Second Edit: They may be exalted if they still don't sell for a while.
4. Hatchies will be unnamed when sold.
5. Haggling and item trades are acceptable, and dragon trades may be accepted on a case-by-case basis.
6. This goes without saying, but behavior that violates Flight Rising rules will not be tolerated.
7. New rule on 8/25/19: All dragons will be listed on the AH after the first 24 hours.
Discounts
1. Friend discount- 15% off entire purchase
2. Bulk discount (buying two or more hatchlings)- 20% off entire purchase
3. Loyalty discount (having bought 3 or more hatchlings from us)- 25% off entire purchase
4. Affiliate Discount- 25% off entire purchase
5. Wind flight- 10% off entire purchase
6. Family- 25% off all purchases
Discounts are stackable.
Note: Prices that deviate from the standard price of that pair are that way because of one of these reasons:
1. Their general aesthetic is more well put-together than most hatchlings from that pair
2. They have a rarer gene than usual for that pair
3. They have a special eye type.
-common= n/a
-uncommon= +5kT/G
-rare= +15kT/G
-unusual= +20kT/G
-swirl= +100kT/G
-goat= +100kT/G
-faceted= +100kT/G
-multi-gaze= +100kT/G
-primal= +500kT/G
Note: I'll delete most of my bumps.
Hatchery banner by Lietra.