The clan matriarch welcomed you warmly, encouraging to look around. As you wander through the clan's ground you walk stumble upon a meadow and five nests, guarded by a Coatl. Their fiery plumage stands out from the vibrant Arcane eggs they tend to, their claws inspecting each nest with a delicacy you've never seen. The glow of stars falls down on the meadow, not obstructed by any trees.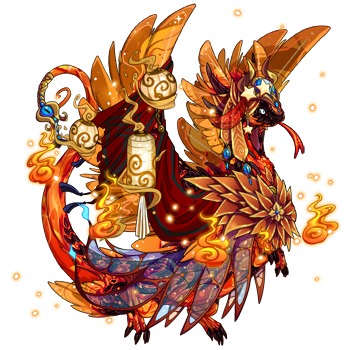 "Welcome, traveler" they hum before you have any moment to open your mouth, almost like they sensed your presence. "It seems your curiosity lead you here, to these nests I'm protecting. The hatchings that grow within this clan are just like us, blessed by the stars. If you're here in search of new blood, I am sure that I can help you."
---
---
Rules:
Gem: Treasure ratio = 1:1000.
I also accept mixed payment or unhatched eggs.
You don't have to ping, I'm subscribed. You can, however, ask to be pinged to any pair you want.
All hatchlings and dragons are placed in the special tab in my lair.
If you buy hatchling only to exalt, name them first.
I can hold on the chosen dragon for 2 weeks. After that time the next buyer will be contacted unless a payment plan is settled.
First come first serve. Any special color combo/eye type may be put on auction
---
Discount:
Friends - 5% off
Arcane flight - 10% off
New accounts [up to three months] - 15% off
Please do not send me a friend request only to buy a dragon. It's rude and will not be tolerated.
---
Please keep in mind that this is my first attempt and this thread may be a little messy.