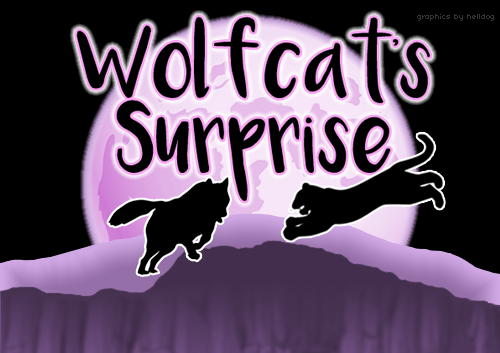 Hatchlings & For Sale / Last Good-Bye / Pairs & Nests / What Dreams May Come
Pinglist / Sold / Affiliates

Welcome to WolfCat's Surprise!
We are RL sisters, Aranpol is the Wolf while Endofighter is the cat. The surprise is that you never know just what we might decide to add next. We do our best to offer something for everyone, from rare to fodder. We mainly breed Skydancers, Coatls, and Imperials with a few others in between.


* First and foremost, be kind and respectful to one another
* Endofighter is willing to trade for items on her Wishlist of equal value.
* We reserve the right to decline a trade/purchase.
* Hatchlings will be unnamed but given a nickname on here. If for some reason we sell a dragon already named, if requested, Endofighter can provide a renaming scroll at the time of purchase.
* Pinglisters have priority the first 24 hours on new hatchlings. After that they will be put on the AH and sold first come first served.
* Dragons can be put on hold for 24 hours only.
* This is a new hatchery so please be patient as we are still learning.
* For specific eye color requests use format below. Endofighter is a registered member of

To Request Specific Eyes wrote:
**
1 gem:1000 treasure
, mixed payments are welcome


**Discounts do stack! (up to 30%)**
Nature and Wind Flight - 10% off
Weekly Dominant Flight - 10% off
Pinglisters - 10% off
Affiliates - 15% off
Respective Holiday Flight - 20% off
Multiple Purchases - 5%
New members (less than 30 days old) - Free if below 35kt or 50 % off

Updates
23 Sept 2019 - 4 New Gaoler Pairs
2 Aug 2019 - 4 New Pairs added
30 July 2019 - Changed some pairs, also added more pairs.
10 June 2019 - 1st Gaoler hatchling added
8 June 2019 - Red Skies pair now 100% Constellation
1 Jun 2019 - Death Stars now 100% Constellation
4 Mar 2019 - Now has access to nests of all Elements through the CFCE.
22 Feb 2019 - Bisexual and Pansexual pairs are complete.
17 Feb 2019 - Working on adding a section for LGBT+ pairs
3 Feb 2019 - 2 New Pairs added
2 Feb 2019 - 4 New Pairs added
4 Jan 2019 - Grand Opening
1 Jan 2019 - Preparing the Hatchery for Grand Opening



Dividers in this thread are made by @Poisonedpaper
All graphics are made by Helldog's Graphics


Hatchery / Subspecies /
DC