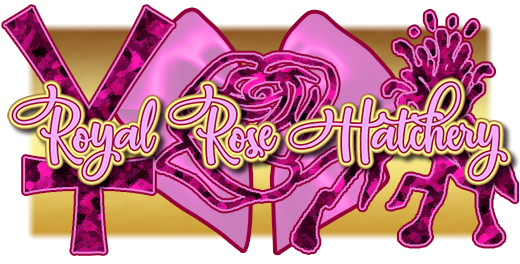 Welcome traveler, to the Royal Rose Hatchery. We here in Shadow too commonly are associated with the thorns, but I can assure you that even in the darkest places, beauty can be forged. Each and every one of our hatchlings and dragons are a beautiful, unique reflection of who we are, and who they can become as they grow. Who knows, you might just take one home with a story of their own to tell... Won't you take a look inside?

I accept offers of mixed payments of gems, treasure, and items at a Gem to treasure ratio of 1:850
All hatchlings will be listed in the AH once they become adults.
Please let me know if you are eligible for a discount! I will do the math for sales.
Naming is encouraged! I appreciate if you name dragons bought from my shop!
Ask for discounts if:
You're less than 1 month old.
You're part of the current festival flight.
You're one of our affiliates.
Bonus Lore:
For a nominal extra fee, your hatchling or dragon can come with a pre-written lore blurb, courtesy of Hyleoroi at the Olympuswatch Lore Shop. Check here for prices, and ask for the affiliate discount!