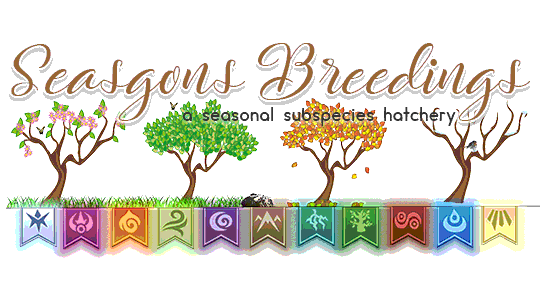 Welcome to Seasons Breedings!
Thank you for coming on in to see what I have for sale. In this hatchery I'll be featuring three subspecies from each flight, and breeding them to hatch on the first day of the flights elemental holiday. I will also be sending them out to nests to correlate the eye color to the subspecies elements. This makes them optimal for Flight Representatives, and I usually peddle them as such. Pop in for a visit, see whats on the nest and what pairs might interest you.
I take Treasure, Gems, and Foodpoints/Green items as payment. I am always, always willing to barter if you're short and the current Holidays Flight gets a 20% discount!
@
anivia
for the great graphics
NEWS
---
WELCOME CRYPTKEEPERS! I'll have them a paircard soon, for sure before the next time I breed them LOL
Pairs in Progress: Desert Sweepers, Anvil Crawlers