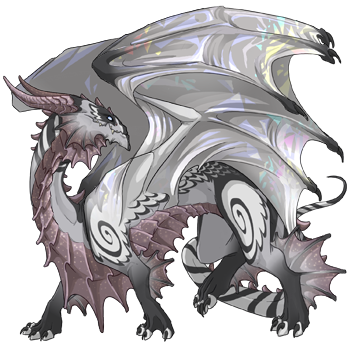 A great silver Guardian unfurls her crystalline wings, her pale purple underside glistening like jewels as you approach the northern lair in the unforgiving icy tundra. A myriad of young adults, juveniles, and hatchlings watch you enter. The youngest of them retreat into an icy tunnel to hide.



"Welcome to Starweaver's Sanctuary, stranger."



The dragoness stands tall and dignified, but there is warmth and compassion in her pale blue eyes as they study the newcomer intently, trying to discern the meaning of their arrival.



"Be you foe, then flee now before my wrath undoes you. But be you friend, you are welcome to stay a while. My charges study the stars here, hone their skills in survival and teamwork, then seek to find their destinies. Perhaps today someone's destiny has sought them?"



In good humor, she laughs, her voice the deep and musical tones of the sea.



"Come, then, walk these dens and see if one of my many children will find their purpose by joining you. I only allow those fully grown to leave, howver; the hatchlings stay with me until I am certain they can survive on their own."



~*~Silversong~*~

~*~*~*~*~*~*~*~*~*~*~*~*~*~*~*~*~*~*~*~*~*~*~*~*~*~
While Starweaver's Sanctuary is a lore lair, the lore has been written in a way to allow for the dragons who pass through the sanctum and into their new homes to be as flexible as possible. I hope you enjoy your new dragon(s) and that they bring you joy in whatever way that is!

Here are the guidelines for Sanctuary dragon adoptions:

*Cost - All Dragons are Free of Charge! (Donations Welcome!)*
*Eligibility - Both New & Old Members are Welcome!*
*Exalting - Exalting Your Dragons is Just Fine!*
*Selling - Feel Free to Sell If You Tire of Them!*
*Naming - Please Name Before Exalting! No Naming Restrictions!*
*Breeding - No Restrictions on Breeding!*
*Bloodlines - Please Assay Bloodlines To Guarantee Compatibility!*
*Gening - No Restrictions of Gening!*
*Returns - All Dragons Welcome Back, Pending Available Space!
*Donations - Treasure, Food, or Dragons Gladly Accepted!
(Dragons are taken in pending available space, so long as owner is alright with my rules!)

*Lore - Lore/Bio Given Upon Request!*
(You can request a specific aspect of lore, personality, background, template, etc and I will be happy to oblige! Lore may take a few days for me to write and apply to the bio before I sent the dragon over, though!)

*Apparel - At This Time, No Apparel With Adoption.*
*Familiars - At This Time, No Familiars With Adoption.*
*Food - At This Time, No Food With Adoption.*


Here is the information about the act of adopting:
*Contact - Pinging @Starweaver or PMs are Both Acceptable!*
*Dragon - Pick Any Adult Dragon in My Lair or Post
(except Silversong)!
*Generate Code - Please Post the Dragon's Code!*
(Click Dragon - Click Generate Code - Copy the BBC Code - Paste in Post)
*Crossroads - One Week to Accept Crossroads Trade!*
*Limit - 2 Dragons Per User/Per Day!*


Here is the information about pinglists:
*Indicate what you would like to be pinged for!
-New Dragons Available
-Specific Breed/Genes/Colors
-Specific Nests (Father x Mother)
-Specific Dragon Clone (ie: "I want one exactly like dragon #ID!")
-Anything Else You Can Think Of!