THIS HATCHERY IS CLOSED
*as you browse the market of hatcheries in search for new dragons of all sorts to fill your lair, you look down a wide alleyway paved with broken stones. Strange music could be heard from a distance, and the sound wasn't like any other. It was made with technology. Typical for the Lightning realm, but you find it a little hard on the ears. Curiosity gets the best of you as you step down the pathway to see a clearing in the middle with a few shacks around it. This place is probably very dangerous at night. To the left, where the earsore music comes from, you see a slightly bigger building with pillars in the front and bright graffiti drawn everywhere. Shouting and screeching of baby dragons and familiars could be heard from the inside. What in Flameforgers' name is going on in there? The sign above was a broken neon sign that flickered on the "EEKS". The sign in very...decorative font read "FREAKS & GEEKS". It was a hatchery, but not a very nice looking one from the outside. You decide to step in anyway, since the advertisements in the front screamed Radioactive and Eyeburners, and their "ridiculously low prices". As you walk through the doors, it wasnt like any hatchery you've seen. The interior was painted black or dark grays, but artistic graffiti was sprayed on the counter and under the framed portraits on the walls of VERY eye burning dragons in their flashy apparel. A lot of fluorescent and glowing decorations of all colors ornamented the place, and in the corners of the lounge were a few comfortable looking sofas and couches. The lamps above them gave off a soft blue LED light, and the floors were made of some kind of glowing fluorescent rock. This ground, along with most of the customized decor, must have came from the Arcane realm. Whoever owned this place had some strong roots with the Arcanist and his land.
The counter blocked off most of the entry, and not long after you step in a heavyset skydancer slithers from the curtain to the back of the business. The curtain was just several glowing rocks strung together. The skydancer was...unusual, and he came out to greet you with a rolled herb between his claws, and a handsome flaming Gale Wolf following behind. The dragon greeted you, but "accidentally" with a large dragon belch that resulted in a few flames escaping his maw. The Gale Wolf looked embarrassed and the ghostly fur on his back died down for a moment. He dryly apologizes and continues...*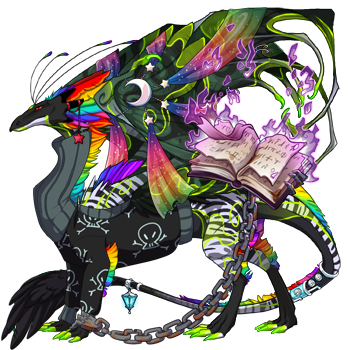 Hello friend! Welcome to my hatchery, Freaks and Geeks! You probably won't find any other dragons like mine in Sornieth! Why? Because I work hard to create the most extreme dragons out there! I am not only an alchemist, scientist, really good looking and a genius, I am also an artist! I take pride in my dragons and they are not at all bred and altered by science and alchemy in order to get their unique coats therefore resulting in mutations and health issues! Just like how my hatchery name is not at all ripped off from a TV show, everything here is completely unique and—
*the skydancer pauses as a huge crash is heard from behind the doors and the screeching of dragons and music got louder. Julius holds up a claw and opens the door and pokes his long neck in to roar curses at the dragon who is supposed to be in charge of the rowdy hatchlings*
That Subwoofer, never doing her darn job... anyway where was I? Oh yes, uniqueness! Um...yea. My prices are very low here for the quality of dragon you are getting! I'll admit, that I did lie back there. My dragons aren't exactly...normal. To the right of the counter here is a list of all the kinds of food they eat. Don't at all be suspicious that some of them want fish AND Baldwin materials. What can I say, for some reason the Saturnian Steamworks dragons will eat fish and blue ooze! That's because they aren't JUST dragons! They're..."alternate" dragons, if you know what I mean haha. And it's NOT illegal in Lightning territory!
*the Gale Wolf rolls his eyes and jumps on something behind the counter to be eye level with the customer: you*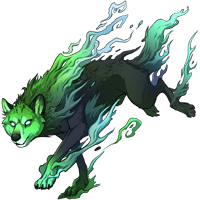 What my master means is, these dragons aren't traditionally bred male and female in a nest then boom a baby. Each pair are trained to use alchemy and a bit of science to make dragons that are what Julius calls *he sighs* "dergborgs". I'm not going to call them that, but yes these dragons are both machine and organic. You can program them however you like to fit your lair, but if they aren't programmed correctly they will just run rambunctious around your lair, not listen, eat all your food (and as what Julius said, your alchemy materials so keep them locked up) and pester your other dragons. All you gotta do to reprogram them is write lore in their bio! It doesent have to be long. Once you do their computer brains will change however you please. Kinda like a chameleon! Aren't those familiars cute? And tasty?
Thanks Gale Wolf, don't you have a rump to lick?
*says the shop keeper as he flutters his wings. The smoke gene on his black and white pelt start to glow and ripple*
So, see the computer screen over there? You know the huge expensive one? Go ahead and look through my pairs over there and see which you like. Reservations are free, click on Trip to see the list. Oh, also if you want to come back I have a storefront set up in ever elemental territory! One in each city will lead back to here. And I made that up all by myself and not at all got the idea from a movie.
*Gale Wolf looks at you with raised eyebrows and shakes his head. This poor creature is bonded to the max with this dragon. You feel bad for the familiar. That skydancer is obviously mad, and you can't help but put the pieces together that this dragon sold illegally altered dragons in the Arcane realm and set up shop here instead to escape the law? Eh, maybe you're over thinking things... after all these eyeburners ARE pretty cool*

-Be respectful to me and everyone else in the thread.
-I will be naming dragons when they hatch. I will only give them custom names if you reserve a dragon. If you don't like the name, use a renaming scroll.

- All hatchlings go in the AH when they are first hatched (unless reserved). They will be priced in gems. If you want to pay in treasure, just post here and ask. I will then take them off the AH and set up a CR. If you don't mind paying in gems just snag them off the AH. Please and thanks!

-

Lightning

flight get a small discount. (You have to claim it, I don't check the flight of those I sell to)

ACTIVE

SUBETA

users get one "free dragon" ticket! Any hatchling you want is free (you can even reserve one) just send me a PM with your subeta or username and which dragon of mine you desire. Also add me as a friend on both sites (I am Ravers-Disease on Subeta)

-DO NOT resell my dragons for more than you bought them for! If I catch you doing this I will block you, which will ban you from purchasing any more dragons from me. For example, if you buy a dragon for 50 gems and resell it for 100kt.

-I would appreciate it if you kept the hatchery banner in the dragons bio so I can advertise my fantasy business, but if you really want to remove it I won't care

Dragons are exalted between 1-7 days after they become adults. If you want me to hold one for you while you save up funds or lair space I will! I hold dragons for a week.

Click below to view our nests!



Eye Colors and Types
I VERY rarely rent nests, so all dergs that are hatched will most likely have Lightning eyes. I change flights every year on Feb 12th, so every year the hatcherie's primary eye color will be different.

Reservations:
F&G do not charge any fees for reserving! There is NO limit for reserving!
If you want to reserve a dragon, message @DjSeizure or post on the thread with this form.
Pair:
Breed:
Sex:
Color combo:
Primary:
Secondary:
Tertiary:
Once your reserved baby is born, we will send you a CR with your new dragon and a price!

Reservation list
Click this dragon to see the list






!FREE DRAGON TICKETS!
Lairs that have purchased a good number of Freaks and Geeks get noticed! Buy 6 or more dragons from us and get any F&G dragon you want free! (Remember that active Subeta and Felisfire users get a free dragon ticket if they add me on both sites and prove their activity)
Below are the loyal users who have received tickets.
***
Pyr0 (redeemed)
ToniRivera (redeemed)
andynicole15
ashenta
Ickalo (redeemed)
kinleeya (redeemed)



---
•••••
This pair only breeds in October!
(80kt or 90g)
Poison and Butterly is extra.
>Roanoke Nightmare<
•••••
(Spiral: 35kt or 45g/ Skydancer: 55kt or 65g)
>Strange Program<
•••••
(PCs: 35kt or 45g/ Coatls: 90kt or 100g)
>Neon Squanch<
•••••
(low%: 35kt or 45g/high%: 45kt or 55g)
>Psychedelics<
•••••
(Skydancer: 35kt or 45g/ Coatl: 90kt or 100g)
>Pineapple Express<
•••••
(Guardian: 25kt or 35g/ Ridgeback: 40kt or 50g)
>Sirens of the Sea<
•••••
(faes: 80kt or 90g/nocs: 120kt or 130g)
Price may ultimately depend on color combo/breed/gene match
>Cosmic Glitches<
•••••
(Tundra: 40kt or 50g/ Bog: 60kt or 70g)
>Vegas Rave<
•••••
(Tundra: 25kt or 35g/ Spiral: 40kt or 50g)
>Danger Zone<
•••••
(Faes: 35kt or 40g/ Bogs: 50kt or 60g)
Pinstripe & Trail will be extra
>Ravers Disease<
•••••
(Smoke: 45kt or 55g/ Runes: 60kt or 70g)
>The Ultimate Eyeburners<
•••••
(Price: Skydancer: 50kt or 60g/ Imp: 70kt or 80g)
>The Ultimate Eyeburners v2<
•••••
(Ridgie: 35kt or 45g/ Imp: 75kt or 85g)
Glimmer is 30kt extra
>Bangarang<
•••••
(Spiral & Runes: 30kt or 35g/ Imps & Circuit: 65kt or 75g)
>Kalaxian Trip<
•••••
(Skydancer: 40kt or 50g/ Nocs: 55kt or 65g)
>Ultra Freaks<
•••••
(Ridgeback: 75kt or 85g/ Bogs: 90kt it 100g)
>Rainboom Martinis<
•••••
(Bogs: 50kt or 60g/ Imps: 70kt or 80g)
Starmap will cost extra depending on the market!
>A Digital Frontier<
•••••
(45kt or 55g)
>Saturnian Steamworks<
•••••
(Ghost: 30kt or 40g/ Smirch: 40kt or 50g)
>Stereo Types<
•••••
(Bog: 40kt or 50g/ Coatl: 90kt or 100g)
>Raving Voodoo Doll<
•••••
(75kt or 85g)
Starmap may be extra
>Goin' Wild for the Night<
•••••
(35kt or 45g)
>Imperial Beach<
•••••
(PC: 35kt or 45g/ Imp: 60kt or 70g)
>Overdose<
Edited by Nazmiye: Title was edited to be in line with Forum Etiquette. Please do not use all caps titles :)