Home
-
Breeding Pairs
-
Registered Members
-
For Sale
-
Affiliations
Gen 2 Aztec-Themed Quetzalcoatls

< The Followers of Hakkar >

You hear a soft, rhythmic tune in the distance, like the sounds of drums, many, many drums. The faint shaking of feathers could also be heard amongst the commotion, and as you pull back the large, leafy fronds covering your sight, you look upon a massive temple, about a hundred tri-colored coatls littering the base.

They danced in perfect unison, their movements intimidating, but alluring. Their feathers were that of emeralds, rubies, and pure gold, their bodies glimmering with beauty...but some wore savage, gold-slabbed headress and armoring adorned with duller feathers the same color as their own. Just then, you hear chants and loud incantations foreign to your ears, as two of the coatls made their way up the staircase of the temple. They were dragging what appeared to be another Coatl, but their feathers were not the same colors as the others.

"Hakkar ! Hakkar !" They beckoned, the only word you could really understand. Was it a name ? The crowd pushed up the staircase as the two lead coatls dragged the outsider to...a pit...? No...an altar...they dragged the struggling Coatl up upon a macabre looking altar, and as you peered as far as your eyes could reach, you could make out small skulls littering the altar.


"The Soulflayer ! Mighty blood God, Hakkar !" They bellowed, their feathers trembling as they danced and continued to chant. A large, slithering figure began to emerge from deep within the temple, it's body miles long and two sets of wings that sprouted from it's form, large and feathery they were, as the serpentine beast arose and beat the air with it's feathers. It let out a blood-curtling scream, the coatls mimicking it's tone, and the severity of the sound forced you unconscious.

You awaken much later, for it was night when you arrived, but you now could make out the sun rising in the distance. But where were you? As you frantically look around, you notice you're trapped within a woven, makeshift cage, adorned with feathers and ropes. You panic, realizing you're at the base of the temple from before!

A Coatl nears your cage, their figure hidden beneath the intimidating gold-slabbed regalia. It's voice is cold, dark, and terrifying. "Why, hello little wanderer....you must have witnessed our little ritual..." She peered out from the mask, her eyes crimson as blood. "...our God is supreme...no one understands...his might..." She hissed out a laugh and grinned widely. "You get to witness his power up close ! You are fortunate...not many get to feel Hakkars blessing ! Many outsiders don't make it past our feeding grounds !" She cackled again and threw her mask back over her deadly eyes, a small crowd of other coatls dashing towards you, lifting the cage from it's place and carrying you with great speed off to the temple....
Welcome to my subspecies project ! I hope you enjoyed the intro ;) here you will find Aztec - themed Coatls, but with a twist ! Their culture, their beliefs, are mirrored of that of the troll race of World of Warcraft, who worship a mighty deity named Hakkar, who resembles a massive Quetzalcoatl and is worshipped extensively by his followers.

Their precursors, Hakkari and Atal'ai, are gen 1 Coatls and so their children will be the first of Hakkars army ~ and I believe some of the first Aztec themed Coatls on the site ! Allow me to introduce you to our founders...


Hakkari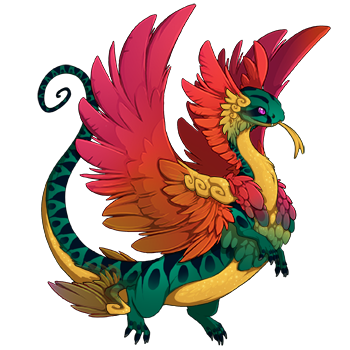 The roots of the entire species, the Hakkari bloodline are the bulk of Hakkars might, as they reside within the temple and around the area of worship. The Hakkari call themselves such a title, adopted from the name of their father, as a sign of heritage and respect. This side of the species are less extreme than their Atal'ai counterparts, as they thrived alone in their territory before the blood-god Hakkar made his presence known, forcing them into eternal worship. Many Hakkari actually resent Hakkar, and might try to overthrow the Atal'ai extremists or simply leave their home in search of a new life separate from their upbringings. Hakkari are more in number than the Atal'ai, and there are in fact Hakkari that still worship Hakkar with all their being, however, they might be resentful of the practice of ritual sacrifice.

Atal'ai






The ravenous, extremists of the culture, the Atal'ai bloodline is crawling with pure devotion for Hakkar. They practice regular and merciless sacrifice, and are usually the most cold-hearted beings in existence. Atal'ai coatls take their name from their mother, as she is the most deadly Hakkar worshiper anyone has ever known. Some followers of this bloodline are known to practice cannibalism, but it's not like anyone lives to confirm such a activity.


Beliefs and Practices

Metamorphosis - As worshipers of the great Quetzalcoatl blood-god, Hakkar, such followers often give up their mortal bodies for more... extravagant ones. After performing tiring and fatal rituals, followers of Hakkar bind their spirits with the Soulflayer, their bodies becoming long and serpentine, their forelimbs morphing to scythes and their feathers extending to amazing lengths. Because this practice involves the removal of back legs to conform to a snakes body, many coatls of this ritual do not survive.

Sacrifice - The stem of Hakkar's power, blood sacrifice plays a key role in his worship. Feeding off of blood and the essence of one's life-force, Hakkar becomes powerful and is able to maintain a physical form, residing deep within the caverns of the Atal'Hakkar, ( the Altar of Hakkar ).

Language - The Hakkari and Atal'ai coatls speak a vivid, foreign language, that is unknown to all outside cultures. This language, however, is mostly universal to other similar-worshiping species. Their dialect is rather crude, their words loud and very exclaimed, each vowel being worded with the same length of sound, and their accents often reflect that of most other swamp-dwelling species. This species also use fast-paced, serpentine incantations that sound like series of hisses to anyone foreign to the tribe. Besides words, the Hakkari and Atal'ai rarely speak to outsiders, and resort to their hissing and serpentine commands.
Tribe Living -
The Hakkari and Atal'ai dwell together at a particular temple, the roots of their tribe stemming from the very temple of Hakkar itself, the Atal'Hakkar. This structure lays deep within a swamp, surrounded by nature's growths and usually accompanied by massive reptilian beasts. Another altar, known as Zul'Gurub, lies deep within a jungle not too far off from the site of the main temple. Both locations are extremely well-hidden, and many outsiders do not find it's grounds. It is ushered that Hakkar himself dwells deep within the caverns and labyrinths of Atal'Hakkar, and emerges during times of ritual and sacrifice...but it has also been said that Hakkar's ethereal form, his spiritual essence, visits both sites when a powerful summoner is present. Their islands are completely detached from the mainland of Sornieth, so most other dragon species never find their locations.
Rituals & Sacrifice -
While both the Hakkari and the Atal'ai practice sacrificial rituals, the Atal'ai thoroughly enjoy such occasions and often go over-the-top. Some Hakkari might not directly participate, and might stay on the sidelines, but all tribe members are required to be present during rituals. Members of the tribe that try to leave, commit a severe crime, or fail to attend a ritual, are usually sacrificed. Rituals pay direct homage to Hakkar the Soulflayer, their only reigning god, for they do not believe in the standard deities of Sornieth, and dwell miles and miles away from other dragon species. With that said, sacrifices are usually involving the strange animal species that dwell nearby, but it is often that parties venture out from their home, looking for offerings for grand rituals. Such practices are also always done during the night; and during nights of blood moons, sacrifices are extremely grand and prosperous.
Roles & Titles -
Within the tribe, there are key roles that many members share. Both the Hakkari and Atal'ai can become prophets, those that are blessed to receive direct omens and commands from Hakkar himself. The Atal'ai are, more often than not, directly in charge of the sacrifice rituals, but the Hakkari have also been known to take such a role. All members can become hunters, warriors, scouts, and all the basic clan-roles, but most worshipers of Hakkar have been gifted with abilities of untold power, such as receiving prophetic omens or being able to bind the very blood of someone else's body. Tribe members pay high respects to their founding ancestors, but ultimately follow the commands of their reigning deity, especially the Atal'ai.


So, what are the requirements to be considered this species ? Well, ultimately, only the descendants of Hakkari and Atalai may be registered, but if you are interested in becoming a breeder, I will usually only accept Gen 1 parents with the color range and genes of my own two.

If you are interested in breeding a child of Hakkari and Atalai and being registered as a breeder here, note that the dragon you pair yours with must have the following ranges:

Primary: Skink and Vipera, very rarely will members ever retain other genes. As for colors, the range is Jade - Forest.

Secondary: Shimmer and Alloy, members often have glimmering and reflective feathers, very few retaining dull patterns. As for colors, the range is Vermilion - Carmine.

Tertiary: Almost always Glimmer, members are blessed with sparkling and reflective scales and it is rare to retain any other traits. As for colors, the range is Buttercup - Sunset.

All Members Must be Coatls

If you exalt a hatchling from here, they will be removed from the registered list !! Serving a deity other than Hakkar is taboo !


Apparel Choices & Familiars
Elite members often wear:


Lesser members often wear:


As for companions, members often befriend serpentine creatures or even various species of birds:


Names
Don't know what to name your new Hakkar-spawn ? Names can be drawn from Rastafarian culture, ancient Aztec culture, and even jungle-inspired names from their homeland !


Cute FR Dragon Adopts - Doodle Babies !
Makeshift Menagerie Hatchery | Gen 2 Aztec Quetzalcoatl Subspecies
HUGE WIP FR RP | Wishlist | DragCave Scroll
C or Cealy | #303930 | She / Her | FR +3 | 18 | Taken by a Bear | Is Actually a Luxray