I've realized that I enjoy giving dragons to people to make them happy more than I enjoy getting a big payoff for them, so
dragons in this thread cost two things:
1. Owning it would make you really happy!
Not 'eh whatever I guess it's okay looking,' or 'I could exalt that for some money,' but 'YES please! I want that!'
2. Any item or currency.
Anything at all!
---
The below dragons may also be on the AH, but no worries, they're still 'mostly free' to people on this thread anyway.
Quote: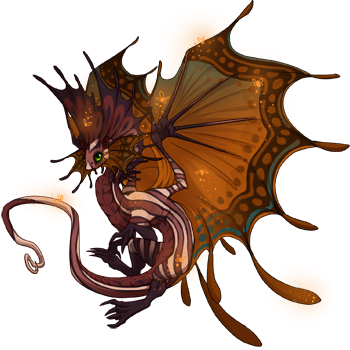 Brick Pinstripe / Bronze Spinner / Sunshine Peacock
Unusual Nature eyes
Male
---
Gets so overwhelmed with enthusiasm for their hobbies that they can forget to take care of themselves. They particularly love climbing up into high branches to drop maple seeds, leaves, and flower petals, so they can watch them slowly fall to the distant jungle floor below.
Never feels tired of listening to stories about what family and friends have been up to. They always know just what to ask to help the storyteller remember all the good bits.
Doesn't often take chances on starting new things because they're afraid of failure- better to stick to the same familiar routines, even if that means they sometimes feel disappointed later about what they missed out on.
Was once startled by the crash of a falling tree while exploring an abandoned old Talonok settlement (which, truth be told, they shouldn't have been poking their nose into at the time). For one horrible frozen moment they were sure that the hostile Beastclan troupe had returned home to find them there and would strike them down in an instant. Even though they looked up and realized that it was nothing but a tree moments later, that fear never entirely left them, and to this day they get jumpy around signs that there may be unfamiliar Beastclans nearby.
Quote: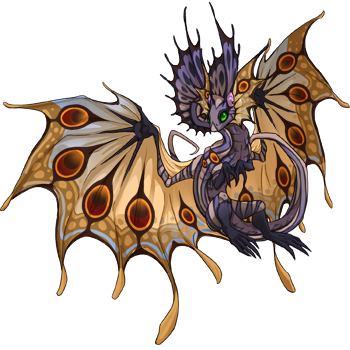 Thistle Pinstripe / Ivory Spinner / Sunshine Peacock
Common Nature eyes
Female
---
Doesn't understand how the old stories and tales could insist that the Shade came from space. Just look at it- black, soft, quiet, stretching out forever like a gentle shoulder to cry on, studded with stars like gemstones on velvet. How could anything bad possibly come from space?
They're fascinated by the ways different clans and parts of the world name and tell stories about the constellations. Their greatest dream would be to travel and collect all those legends together into one grand book.
The most upset they've ever been was when an Arcane dragon stopped nearby to stay overnight on his travels. When _____ excitedly shared their love of the night sky with him he laughed in their face. Imagine, he said, expecting to understand the stars through those green eyes. Shouldn't they be studying flowers and fruit instead?
It didn't slow them down in their studies- in fact it only pushed _____ to learn more and to swear they would never listen to anyone who would talk down to them- but the truth is that the memory still stings.
---
I said it at the top but I'll say it again for clarity,
dragons in this thread cost two things:
1. Owning it would make you happy
Not 'eh whatever I guess it's okay looking,' or 'I could exalt that for some money,' but 'YES please I want that! Taking this dragon home would make my day!'
2. Literally any random thing.
---
If you see a dragon you want
, make a post here to call 'dibs' on it and ping me to get my attention. Then send me a
two way CR
giving me
anything
. It can be a flower, a pebble, money,
seriously anything at all.
(Why? Because I think it's fun to see what people will send, and it's more interesting than just giving out dragons for 1 treasure.)
You do not have to wait for me to respond to your ping before sending the CR.
As soon as I see your offer, I'll add the dragon you're asking for to my side of the CR, and they're all yours.
---
*Please only take things that you sincerely want to own, not for exalt fodder.
If you eventually want to exalt it later, after you've owned it and enjoyed it for a while, then of course that's fine.
*Please name the dragon
for the sake of my dragon's offspring lists.
*If you immediately regret your 'trade,' let me know.
If you adopt something from here and realize you don't want it after all, you can send it back to me. I'll re-home the dragon and return your item to you if I still have it. No hard feelings, these things happen!
*If multiple people try to claim the same dragon, it goes to the first person to post here.
Setting up a CR to send your 'payment' can take a minute; play it safe, call dibs here first!
---
*I get impatient pretty quickly with the things sitting in my lair;
if nobody has shown interest in an adult dragon here for a day or two, I might name it and start leveling it to exalt.
*My timezone is three hours ahead of FR time.
I'll try to answer messages and send CRs as soon as I can, but don't panic if you don't hear from me instantly. I won't make you wait more than a day unless something has gone very wrong irl.
*I reserve the right to post dragons on the AH at the same time as they are posted here, or to take them down if I change my mind.
Especially if they've been here for a while and nobody seems to want them.
That's it!
I hope you find something you like!