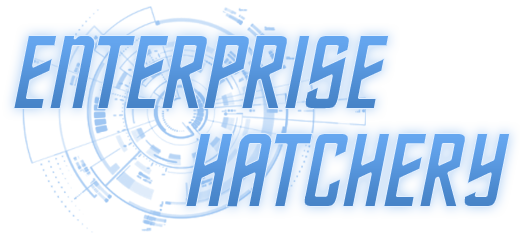 ---
Rules & Information
|
For Sale
|
Breeding Pairs
|
Links & Affiliates
---
Have you ever wanted a dragon who runs on dilithium, who can go all the way to Warp 9 if she needs to, who, if you treat her like a lady, will always take you home? Well, you're looking for a starship, so you're probably in the wrong place. But we do have dragons, which is at least half as good.
Welcome to
Enterprise Hatchery
, a hatchery run jointly by @
Khelidon
(Lightning) and @
Pleti
(Wind). We specialise primarily in
TG Imperials, Coatls, and Wildclaws
of all colours, with the occasional other breed as well. Even a Vulcan would find something to like here, so grab your phaser and communicator, and let's boldly go!
---
• Please ping either @
Khelidon
or @
Pleti
to get our attention!
• Gems are accepted at a
1:590 ratio.
• Haggling, payment plans, and holds (for a maximum of 7 days) are welcome.
• 10% discount for Lightning or Wind Flight members.
• All pairs can be bred in either a Lightning or Wind nest by request.
• Pinglist members are given 24 hours to select their desired hatchlings before they are put on the Auction House.
• Certain scrolls will be accepted in lieu of treasure: please ping either @
Khelidon
or @
Pleti
to see what scrolls we are currently looking for.
• All Star Trek puns are entirely Khelidon's fault.
---