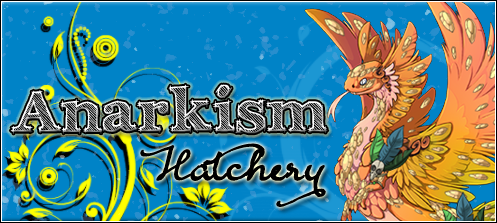 Hi and welcome!
I figured I might as well make a thread so I can start joining different breeder organizations and stuff. Anyway, what you'll find here: a WIDE VARIETY OF DRAGONS. To be more specific, I like bright, contrasting colors in addition to white/dark base dragons with colorful wings. As a general rule I breed
coatls, skydancers, and imperials
with three genes, usually iri/shim/whatever.

So, a few guidelines and other info!:
I'm mostly interested in selling my dragons for treasure, but I'll accept gems at what the current ratio on the boards is. I might also be interested in scrolls, eggs, artwork, rare items, and so on. Check my last section for dragons I'm looking for too!
I don't do reserves at the moment. That said, feel free to ask to be on a ping list for a given pairing. The ping list will get 24 hours to send me a CR request (first come, first serve) before dragons go to auction. If there IS no ping list, they'll go straight to auction.
Unless requested otherwise, I level/exalt or keep dragons once they reach two weeks. I'll hold dragons for a few extra days if you need me to.
Shouldn't need to be said, but feel free to haggle with me!
These "rules" may change in the future, so I apologize in advance for that. I also may keep hatchlings from time to time if they're exactly what I'm after for a future breeding pair, sorry!
Latest Update:
June 10 - Added new skydancers.