THIS AUCTION IS CLOSED!!
Wow, I was not expecting this glorious baby to show up in one of my nests! I've got a pair breeding for triple seafoam and I've gotten a triple teal and now a triple caribbean! Well, she doesn't fit in with my breeding plans, but I'm sure someone out there is interested in such a lovely lady. So I'm going to auction her off to try to get the best deal I can because I'm kind of broke at the moment D: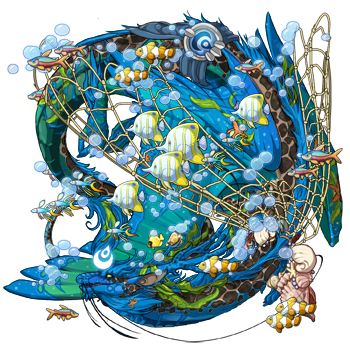 This is the little lady in question.
Caribbean Iridescent/Caribbean Shimmer/Caribbean Gembond female Imperial.
Starting bid
: 300k treasure or 1000 gems
Winning bid
: Lowkey with Iridescent Scroll (450k) + 250k + 350 G (105k)
= 805k total
You may bid in treasure or gems. I value gems at 300t = 1g. I am also on the look out for iridescent, gembond, and crackle scrolls. I will accept these for market value (ex. bidding a gembond scroll = bidding 200k). PLEASE PING ME WITH YOUR BIDS OR I MIGHT MISS THEM! MINIMUM BID INCREASE IS 10k TREASURE OR 34 GEMS! Please also ping the person you've outbid so that they know they've been outbid. Feel free to ping me with any questions as well. This auction will run as long as it keeps getting bids. Once it slows down I'll put a time on it to close and if no other bids come in I'll name the auction winner. I expect it to end some time Sunday evening.
To my knowledge this girl is not related to any other triple Caribbean projects currently going. Her parents were chosen to breed triple seafoam and she was a nice surprise. Hopefully someone out there is interested in this lovely gal! She'd love to come brighten up your lair with her lovely blue countenance :3
HAPPY BIDDING, EVERYONE!!