Currently CLOSED! Be aware that while I am usually able to finish art fairly fast, it may take up to a week or two depending on the commission type because I am a full-time student with a volunteer job and school has been rigorous lately. Also, if you don't get a slot, I don't take waitlist orders BUT my pinglist is always open!
Quote:
Slots Open:
1. LostUmbreon - PAID - FINISHED!
2. LostUmbreon - PAID
3. WolfSong - PAID - FINISHED!
4. chilope - PAID - FINISHED!
5. VeiledOverdose - PAID - FINISHED!

Here's what I can do for you:
MINIS
SKETCHES
PAINTING
PENCIL SKETCHES
GJINKAS
Quote:
Colored bust- 200 kt
Dragon used for example: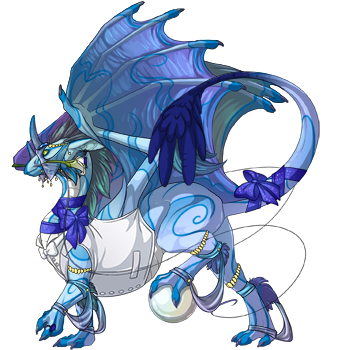 Gijinkas can be most dragon-like (above, where the dragon genes are used), somewhat dragonlike (have dragon ears/horns/eyes but human skin&hair tones), or completely human. Your choice!
This is all I'm formally offering for these for now, sorry! But you can ask me about other options. ;)
Feel free to haggle on prices! Also, some things will be more:
Crystal/Facet --> + 10 kt (unless sketch/line art where there's no color)
Skins/Accents are 7-15 kt extra depending on complexity and the type of art I'd be doing- just ask me about it if you're unsure! (usually also unimportant if what you want is a sketch/line art)
Apparel --> + 3 kt per piece (you can ask me to leave off pieces of apparel, too, if you have a dragon with a lot of it)


Quote:

Bribes I'll take for full or partial payment:
And pretty much ANY sylvan apparel or ANY retired holiday apparel. Also,

Any other pretty accents? Make an offer!


And some things will be less:


Fellow Acolights get 10% off! ; )
Fellow Themed Layers get 5% off! (If all the dragons in your lair are named after a common theme, yeah that's something I can appreciate. Idk why I just, really love that)


Any questions/comments are welcome.
Banner made by kirlia!