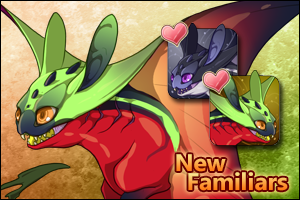 New Familiars:
New familiars are now appearing in the
marketplace.
The croakers will make a loving and slimy addition to any collection
Click here to read more about today's updates.
Helping Hands:
We would like to
welcome new members to the Flight Rising Team
.
Arahtim
has been helping to take good care of those who contact us for customer service.
Fable
has been assisting in the illustration department and we are loving her work! We would like to extend a big "thank you" to both of them for their help in making Flight Rising an even better site, and as always, a "thank you" to our amazing moderator team who help to keep message boards running smoothly.
Additional Coliseum Drops:
There are several new food items dropping in the Harpy's Roost venue of
the coliseum.
New Skins:
Two new skins for wildclaws are now stocking in the gem marketplace. The Piebald Fawn and Blue Butterfly can be used to give your wildclaw a snazzy coat of paint.
Click here to check them out.
Bug Fixes:
Scatterscrolls suffered from an issue where they would only scatter a random range from colors 1-47(white through sunshine) rather than 1-67(white through rose). The affected timeframe was from August 15th until September 22nd 0:00. They have been fixed are now functioning correctly with a random range within the 67 color set. If you have used a scatter scroll during the effected time period and are unsatisfied with having used a scroll within the limited range, please visit this topic for compensation procedure.
Runestones has been having an ongoing issue where it would not advance to the next level without a large wait time. This issue is something we are actively looking into. Please see this thread to follow updates on known issues and their tracking threads. Thank you!