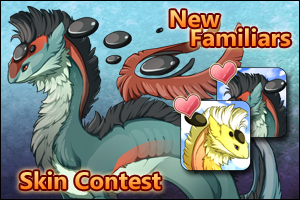 New Familiars - Psywurm:
Two new familiars have wiggled their way out of the mire and into the marketplace. The psywurms were generously sponsored through our Kickstarter by
Mythka
.
Flameforger's Festival Skin Contest:
In celebration of the upcoming Flameforger's Festival, we're running a
Fire-themed skin-design contest
with some pretty cool prizes for skin artists.

Additional Updates:
Bug Fix: An issue in which users were being locked out of the Coliseum and receiving a battlesprites error has been resolved. All parties were wiped in the process, so it may be necessary for you to reorganize your party.
Terms of Use Update: We have made adjustments to the Conduct section of the Terms of Use.
Server Update: We are in the process of preparing hardware, adjusting settings, and moving data to our new set of servers. These servers should bring more power to Flight Rising, and allow the site to support more concurrent connections. Due to the nature of the migration process, it is still in the planning phases so that all relevant team members, in addition to our server administrators, are available for the transition. We do not have an estimation for when this will take place, but we will make an announcement about the scheduled maintenance that is necessary as soon as we are able to.
Nightly "Heavy Load" Issue: We are researching an issue in which the site suffers heavy performance loss during non-peak hours. We believe the problem to be relegated to a server-side service that we are running that is reaching a memory limit and crashing. We have provided restart instructions to more members of the team so that they can restart this service if necessary. Thank you for your understanding!
New User Registration Update: New user registration is still disabled to alleviate server congestion and performance issues. We plan on opening registration again shortly after our server migration, once dust has settled and we are sure that the environment supports it.
Flight Rising Developer
Best Artist Not Allowed to Art | Business Ops | Engineering