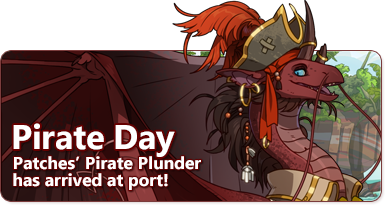 Pirate day is back, and the scallywags of Sornieth continue their plunder!
[Image Caption: "Pirate Day: Patches' Pirate Plunder has arrived at port!" A dark red pearlcatcher dragon with blue eyes, rings on his horns and ears, and a corsair's hat smiles in front of a tropical cove.]
---
Buried Treasure!
Across Sornieth dragons are uncovering
tarnished doubloons
! This currency can be found by performing various activities across the site. It may be spent in
Patches' Pirate Plunder
. What's that you ask? Why-
---
Patches Pirate Plunder!
Patches has returned to port with a year's worth of plunder to trade for! New and returning pirate day items can be found in
Patches Pirate Plunder
!
You can now have an entire crew's worth of pirate dragons in their own unique garb!
ARRRRRRR...!
Patches Pirate Plunder will remain available until 6:00 September 26th. Patches and his crew will cycle back each year in mid September.
---
Brew some Crew!
A captain isn't much without a crew! Novice and Veteran alchemists alike can
head on over to Baldwin's Bubbling Brew
to concoct some friends to man the deck! These recipes are available until 6:00 on September 26th when they cycle, so brew fast, ye landlubbers!
---
A Scene to Behold!
Dragons may find copies of this scene in
battle in the coliseum
! All enemies have a rare chance to drop this scene until September 26 at 6:00 server time before it cycles away for another year!
---
Starfall Celebration Skin Contest
The eleventh annual Starfall Celebration will begin September 24, 2023, and we're running a skin and accent contest in celebration Artists have until the end of the 21st at 23:59 server time to submit an entry!
Click here for more information!

---
Additional Updates
The Which Waystone now includes a directory list of all currently available activities.
Pirate week will begin at 0:00 server time on September 19 instead of at 06:00. It will still end on September 26 at 06:00.
Primary Gene: Python, Secondary Gene: Morph, and Tertiary Gene: Flecks have had their rarity changed from Uncommon to Limited.