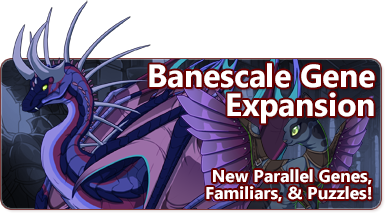 Banescale dragons get a new coat of paint in
today's update

[Image Caption: The banner image reads "Banescale Gene Expansion: New parallel genes, familiars, and puzzles!". This image is in shades of purple and blue, and features a Banescale dragon with large horns and spikes sporting the newly released Ribbon & Eel gene, which long parallel bands of color across its body. In the lower right is a hairless cat familiar with metallic wings.]
---
We have many new additions to implement tonight, and we're putting them up live!
The live update is now complete! All of the following content should be available:
Banescale Parallel Genes
Additional genes are now available on for
Banescale dragons
! Each of these genes has a chance to appear where their modern counterpart is available. This means that if the modern version of the gene was available in the treasure marketplace, the Banescale version will be too. Tide and Foam trades are available through Baldwin until our
upcoming gene swap shop is available.
---
Familiar Sights
The following new familiars have a chance to stock in the
treasure marketplace:
Those who befriend some of the newest familiars may find
their feats rewarded!
---
Greenskeeper Gathering Skin Contest
The tenth annual Greenskeeper Gathering will begin May 28, 2023, and we're running a skin and accent contest in celebration!
Click here for more information!

---
Jigsaw Additions
There are 5 new puzzle possibilities for
Jigsaw!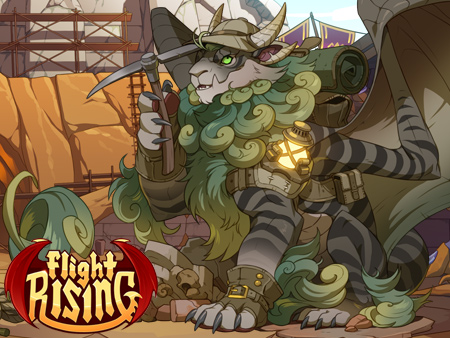 ---
Additional Updates
Secondary Gene: Daub for moderns and Gaolers will have their gene rarity changed from Common to Uncommon. This change will happen on or after July 24, 2023.
Tertiary Gene: Gembond for moderns, Aether, and Undertide will have their rarity changed from Limited to Uncommon. This change will happen on or after July 24, 2023.