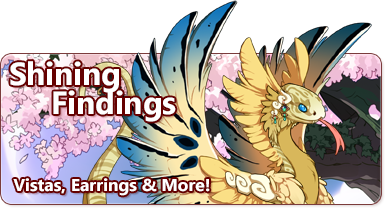 Ribbon Vistas, earrings, and new familiars are to be found!
[Image Caption: The banner image reads "Shining Findings: Vistas, Earrings, and More!" and depicts a Coatl dragon which has a pale yellow snakelike head and blue-tipped feathered wings. It is wearing a small earring.]
---
Ribbon Vista Additions
Three new vistas celebrating the spectrum of dragons on
Flight Rising
are now available in the
treasure marketplace
.
---
Earring Apparel
Dazzling new earrings are all the rage this season!
These earrings may be found in the
Treasure Marketplace:
These earrings may be traded for at
Swipp's Swap Stand:
The following earrings may be dropped from opponents in the Bamboo Falls Venue of the
Coliseum:
The following earrings may be brewed by alchemists level 1 and above at
Baldwin's Bubbling Brew:
These earrings may be excavated from the Deepsea Dive at
Arlo's Ancient Artifacts:
---
Fiona's Friends
Fiona has managed to acquire more familiars that she could use a hand in caring for. Those who manage to accomplish
her feats
may be worthy candidates!
---
Greenskeeper Gathering Skin Contest
The tenth annual Greenskeeper Gathering will begin May 28, 2023, and we're running a skin and accent contest in celebration!
Click here for more information!

---
Additional Updates
A timelapse of May 12th's livestream of the template creation of Ancient Breed 7 is now available.
Our 10th anniversary is nearly here! We wanted to give everyone a quick update on how we're approaching the final phases of development for the Achievements & Pursuits systems.
Festival Bears and Imposter Bears are no longer hoard-sellable nor can they be melted at Baldwin's Bubbling Brew anymore.
A new task was added on April 23rd to unlock hibernal den slots.