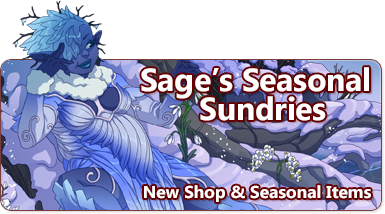 A new shop that changes with the seasons arrives
in today's update
[Image Caption: Image banner reads "Sage's Seasonal Sundries: New Shop & Seasonal Items." The banner depicts a winter dryad wearing filigreed leafy garb. She has icy blue skin and icicle covered twigs and leaves as her hair. She is leaning against a winter tree.]
---
Sage's Seasonal Sundries
There's a new shop in the Grand Exchange!
Sage's Seasonal Sundries
will house all of our seasonal items: Winter, Spring, Summer, and Autumn! These items previously stocked for a limited time in the marketplace, but we wanted to have a place where they will be available all season long without dragon clans having to hunt for them.
Sage and her shop's contents will change
with each season.
---
New Seasonal Items
Sage's shop will contain the following new and returning items, and will make them available in their respective seasons.
Winter


Spring


Summer


Fall


---
Mistral Jamboree Contest
The tenth annual Mistral Jamboree will begin on March 26 2023, and we're running a skin and accent contest in celebration!
Click here for more information!

---
Additional Updates: