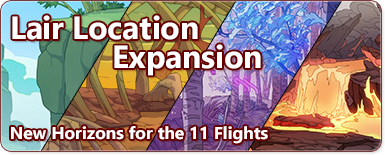 The lairs of
Flight Rising
move to new locales
in today's update
[Image Caption: Image banner reads "Lair Location Expansion: New Horizons for the 11 Flights" The image is 4 slices of landscape. The first is green and depicts a soaring pillar, the second is gold and orange and depicts a boneyard, the third depicts a purple birch forest, the last depicts a magma river."]
---
Lair Location Expansion
For our
ninth anniversary
our art team revamped all of the banner and wallpaper artwork for each of the flights.
We are now ready to implement the second step of that update: A second set of lair locations.
Players may now choose between two lair banners
under their
account settings.
This choice will affect how your lair's banner wallpaper appears to you and to your visitors.
The new banner artwork depicts the following locations:
Starwood Strand
Greatwyrm's Breach
Gladeveins
Mirrorlight Promenade
Wispwillow Grove
Abiding Boneyard
Reedcleft Ascent
Fishspine Reef
Carrion Canyon
Molten Scar
Snowsquall Tundra
---
Room to Grow! - Future Banner Choices
There are many locations in Sornieth that dragons call home. Over the next year our artists will be working on the next set of banners for our dragon clans. The next set of planned banners will include:
Focal Point
,
Cairnstone Rest
,
Shrieking Wilds
,
Hewn City
,
Foxfire Bramble
,
Rotrock Rim
,
Twisting Crescendo
,
Leviathan Trench
,
The Lightning Farm
,
Blacksand Annex
, and
Cloudscrape Crags
!
---
Mistral Jamboree Contest
The tenth annual Mistral Jamboree will begin on March 26 2023, and we're running a skin and accent contest in celebration!
Click here for more information!

---
Additional Updates:
Susie's Sweet Sentiments has had her artwork updated to include a more autonomous wheelchair.
The encyclopedia entry for Joxar's Spare Inventory has been updated to separate the large list of skins in the crate into two pages.
All items from the 9th holiday cycle have been added as potential drops from Spare Inventory Crates.
The confirmed genes error thread has been updated. The gene corrections we worked on during the livestream are now live.
The genes article has been updated to include additional information on how to acquire and apply genes, a list of all current modern genes, alt text, larger images, database links for each gene, the gene item, and the gene rarity.
Modern and Ancient Breeds have been separated into two separate lists on the Encyclopedia Home Page to better differentiate them for new players.
Coliseum-Unique Skins have had their hoard values normalized to 500 treasure, as per our Site Status on January 23!