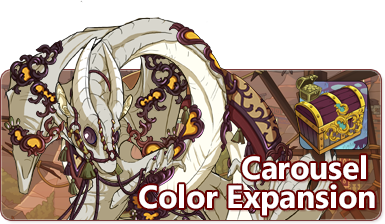 Apparel made of filigree and fancy has made its way to dragonkind. New colors of the carousel apparel now available!
[Image Caption: A spiral dragon twists around to face the viewer. It is an off-white with brown eyes and is wearing apparel reminiscent of carousel horses. It has autumn colored filigree, saddle, and bridle. The graphic text reads "Carousel Color Expansion"]
---
Merry Dragons Go Round
Apparel made of filigree and fancy has made its way to dragonkind. Those who love the carnival and ornate decoration may enjoy the carousel sets! The following color variants now have a chance to stock in the
treasure marketplace
, and rarely from randomized chests and Pinkerton!
Vineyard Fancy
Tarnished Fancy
Sapphire Fancy
Gothic Fancy
The following apparel is has a chance to drop as a reward for fighting in
The Mire venue in The Coliseum
. Please note that this - like most coliseum apparel - is considered a rare drop.
Withering Fancy
---
A Glorious Gift
From now until February 12, 2023 at 23:59 server time,
Galore has a fancy gift
to share with dragons who visit him! Make sure to stop by and collect it: it would be rude to leave Galore with no one to appreciate his gift!
---
Trickmurk Circus Contest
The tenth annual Trickmurk Circus will begin on February 19, 2023, and we're running a skin and accent contest in celebration!
Click here for more information!