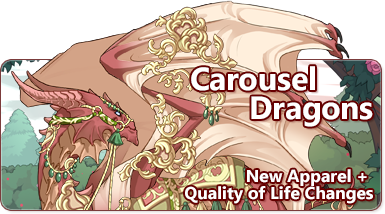 Apparel made of filigree and fancy has made its way to dragonkind. New quality of life updates to site features.
---
Merry Dragons Go Round
Apparel made of filigree and fancy has made its way to dragonkind. Those who love the carnival and ornate decoration may enjoy the carousel sets! The following color variants now have a chance to stock in the
treasure marketplace
, and rarely from randomized chests and Pinkerton!
Golden Fancy
Lavender Fancy
Royal Fancy
Spring Fancy
The following apparel is available to dragons with an
alchemy skill of level 24
and above. Head on over to
Baldwin's Bubbling Brew
to check out the new recipes!
Primary Fancy
---
Developer Updates
Two of
Flight Rising
's most recent site updates, the
Grand Exchange
and the
Clan Profile Refactor
have received a flurry of QoL improvements.
Grand Exchange
You can now filter offers by category and name.
If you do not have enough of an item to complete an offer, you can now hover over that item to find out exactly how many more you need.
Offers now indicate if you already own the item being sold. You can click this icon to jump to your Hoard or Vault.
The Hoard now flags items that are useful for Grand Exchange offers. This only applies to current offers.
Clan Profile Refactor
The number of recent forum posts displayed on the Clan Profile page has been increased from three (3) to five (5).
When viewing a friend's Clan Profile, the icon and tooltip for the friend button will indicate that you are already friends.
When viewing the Clan Profile of a player that has sent a pending friend request, you will see a small alert message indicating this below that player's vista.
Unfriending a friend now has a confirmation step to avoid accidental unfriending.
The comment section is now more compact. Commenter names are displayed in a smaller font and the comment box is shorter by default.
Many of these are based on player feedback. This will continue to be true as we continue to refactor, refresh, and revamp sections of the site. So thank you for continuing to share your suggestions and ideas!
---
Riot of Rot Skin Contest
The tenth annual Riot of Rot will begin on October 23, 2022, and we're running a skin and accent contest in celebration! The contest ends tonight so this is your last chance to submit an entry!
Click here for more information!

~
Flight Rising Engineering Team
~
-
Do you want to hear what I said again? Hoot hoot!
Flight Rising
Knowledge Base
Flight Rising Rules & Policies