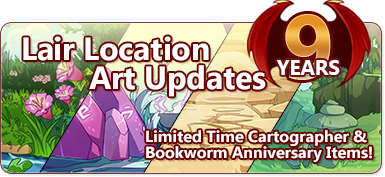 To ring in
Flight Rising's
ninth year
anniversary, we've given our lair artwork the TLC it deserves—and unearthed some limited-time items in the process!
---
[Image Caption: A banner image with the text "Lair Location Art Updates: Limited time cartographer bookworm anniversary items." The banner has the wings from the Flight Rising logo framing text that says "9 years". This anniversary banner shows the new location artwork in small slivers, showing cropped teaser images of the nature, arcane, earth, and wind areas.]
An Anniversary Celebration
This year we celebrate Flight Rising's ninth anniversary.
We are incredibly thankful for those who have played our game over these past years, and excited to welcome those who are just now joining us! This year our anniversary celebration is themed around mapmaking and the bookworms who help -and thwart- us!
For the next week, until June 15th at 6:00 server time
, the following items will be available to
brew from Baldwin
,
purchase from the treasure marketplace
, and rarely find while
battling in the coliseum
.
Each item is available through all three methods.
Galore
may also have managed to find some copies to share. After June 15th, these items will be retiring, a memory of this year's celebration.
---
Lair Artwork Updates!
For our ninth anniversary our art team has been working on a bit of a glow-up for our elemental lair banners and wallpapers. When a player visits their lair, nesting grounds, or clan profile or that of another player, they will see the banner and wallpaper of the respective element.
The artwork that's been used for these banners and wallpapers is some of the oldest on the site, and we thought it was time for an artwork update that will allow us room to grow with even more variety down the line!
As of today all banners around the site have been changed to new, updated artwork. What's more, rather than being an amalgamation of the element in general, each of these banners represents a specific place on the world map. In this case, the starter zones that lesser lairs are automatically assigned to upon lair creation.
Crystalspine Reaches
Shattered Plain
Everbloom Gardens
Sundial Terrace
Driftwood Drag
Wandering Contagion
Zephyr Steppes
Tsumani Flats
Highland Scrub
Emberglow Hearth
...Snowsquall Tundra?
Oh dear, it looks like mistakes were made on that last one.
Snowsquall Tundra
is
not
the first zone that a new lair is assigned to. That would be
Frigid Floes
!
...but if you like the
Snowsquall Tundra
artwork, fear not. Consider it a preview of—
---
Room to Grow! - Future Banner Choices
A choice of banner locations is something we'd like to implement in the future.
Once the Clan Profile and Nesting Grounds refactors are complete and our artists have the time needed to make a second set of environments, we will be in a position to be able to make banner selection possible. Players will be able to choose from a set of locations within their elemental zone and have the banner and wallpaper change in response.
The next set of planned banners should include:
Starwood Strand
,
Greatwyrm's Breach
,
Gladeveins
,
Mirrorlight Promenade
, Wispwillow Grove
,
Abiding Boneyard
,
Reedcleft Ascent
,
Fishspine Reef
,
Carrion Canyon
,
Molten Scar
, and
Snowsquall Tundra
(yes, it'll be back!)
---
Thanks for being with us for 9 years! Here's to many more!