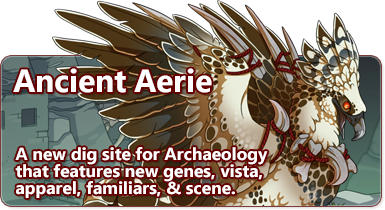 A new site of archeological interest has been discovered. Dragons across Sornieth seek to uncover the history of Ancient Aerie, our newest dig site.
---
Ancient Aerie
A new dig site has been opened
for dragons with an
archaeology skill of two and above!
Ancient Aerie features flora, fauna, and relics from third age harpy territory.
[Image Caption: A button featuring the image of a skeletal terror bird, and the text "Ancient Aerie".]
Items available through the Ancient Aerie dig site include:
---
A reminder of some additional changes that were made to
Arlo's Ancient Artifacts
earlier this week:
Arlo's Ancient Artifacts
has been updated to aid your clan's archaeological and paleontological activities!
Alert Settings
If you would like to avoid receiving
alerts
related to
Arlo's Ancient Artifacts
, you can now disable them! Just look for the new
settings button
on the
main Arlo page
.
[Image Caption: A new settings button on the main Arlo's Ancient Artifacts page will let you set whether or not to receive any alerts related to the feature.]
Focus Digsite
As
Arlo's Ancient Artifacts
grows to contain new digsites, we want to make sure you can direct research notes to the site that matters the most to you. This update adds a new
Focus digsite
switch to determine what site should receive those notes.
[Image Caption: A new toggle switch on the the Digsite Contracts page determines what site will receive incoming research notes.]
---
Players must have a level two skill to be able to access Ancient Aerie.
The archeology experience cap has been raised to level 3.
For this dig site we have removed the randomized chests to try out splitting the apparel sets across two dig sites each. The reason for split chests (or randomized apparel) is that one dig site yielding seven items is a bit imbalanced for the cadence of archaeology. After reviewing feedback, we determined that the randomized chests were somewhat unpopular. The downside of the split is that its more dig sites for pickaxes and notes to be spread across, but the split allows reliable results from each chest. We hope this change helps to alleviate the frustrations of the randomized chest distribution method.