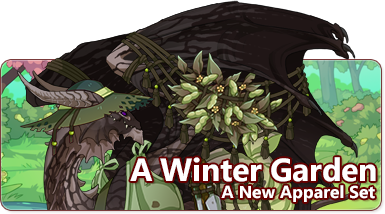 Horticulture enthusiasts rejoice! There is new gear for all your gardening needs.
---
Gardening Wear
Those hoping to get a very early start on their garden starters now have new gear to don. The following gardening sets can occasionally appear in the
treasure marketplace
, and rarely from randomized chests and Pinkerton!
Sprouting Harvest
Loamy Garden
Fruitful Garden
Kelp beds are kinda like an undersea garden? No? Well they are now! The following apparel now has a chance to drop from kelp beds opponents
Hydrating Garden
A very special harvest is now available in the
gem marketplace.
---
Galore's Gifts
From now until January 13th at 6:00 server,
Galore is spreading the love of gardening
with a chest that may contain the treasure and kelp beds gardening pieces.
What will your gift reveal?
---
Crystalline Gala Skin & Accent Contest
The ninth annual Crystalline Gala will begin January 23, and we're running a skin and accent contest in celebration!
Click here for more information!
---
Additional Updates
(these updates are collected from the status box.)
2FA has been implemented to help protect your account. Please ensure that you maintain a strong and unique password for your Flight Rising account and do not reuse passwords from other sites!
Tomo's Trivia Tablet has received 25 new bits of trivia!
The list of confirmed gene errors has been posted. Once theses errors have been addressed, we will reopen the gene error reporting thread.
Obelisk Shadow Multigaze is no longer missing line art.
Obelisk Swirl and Marbled have been updated to have the accent color at the correct opacity.
Obelisk Flair had its manes changed. Then they changed back after reviewing feedback. It was a whole thing.
Spearmint Toxin on Banescales now has the correct accent color.
Banescale M Blue Ringlets is no longer missing
The tan blocks of color in Banescale H Ringlets and Banescale M Ringlets have been corrected.
Several apparel corrections have been implemented.
50 new puzzles submitted by our players have been approved for Tidal Trouble.