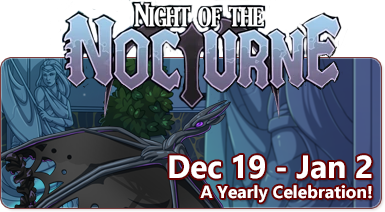 From the veiled brambles and branches of the Tangled Wood, the elusive Nocturnes are beginning to spread across the realm. These oft-hidden dragons are again leaving the comfort of their dreary habitats and traversing Sornieth under the cover of darkness. On this, the shortest day of the year,
Nocturne
dragons rule the skies.
---

Night of the Nocturne
is the annual celebration of one of
Flight Rising
's
Limited
breeds. Once a year, Nocturne breed change scrolls become available exclusively during this event! Nocturnes have a 30-day breeding cooldown and eat
Meat
and
Insects
.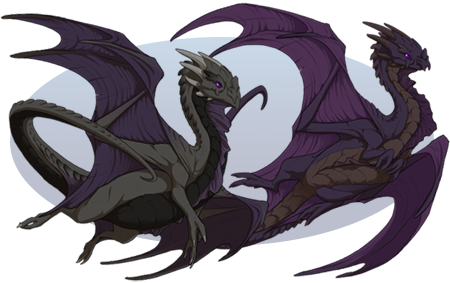 ---
Event Details
From now until
January 2, 06:00 server time
, it will be possible to obtain Nocturne Dragons in the following ways:
Finding rare Unhatched Nocturne Eggs.
Finding very rare Breed Change: Nocturne scroll items.
The items above will be found in
Strange Chests
--baffling containers left by the breed during their only two weeks of activity. Nocturnes aren't keen to just shower the realm in gifts, however. Several of these chests have a vicious mind of their own, and some are now known to be under the protection of some new clever and camouflaged foes...
In order to find these chests, participate in daily site activites such as gathering, brewing, hatching, bonding, exalting and more! ...or test your skill and battle Mimic monsters in the
Coliseum
. Mimics can be encountered in all Coliseum areas, with higher level mimics having a greater chance to drop a chest. New this year,
all coliseum enemies will have a low chance of dropping event items
, but mimics will have a much better chance than a normal opponent. If you can't battle, don't worry!
Baldwin
is always seeking new alchemists to help him craft the perfect brew to unlock the secrets of these chests. Swipp is also interested in trading them for materials.
It will also be rarely possible to find
Unhatched Nocturne Eggs
while
scavenging
in any elemental region.
After two weeks have passed, Nocturnes, their eggs, and their
Strange Chests
will become scarce until next year, when they again return.
To help kick off the event, we have granted all players an
additional 15 Gathering Turns
for today only! We recommend using them right away, because if they aren't, they'll disappear after the next rollover.
Quote:
IMPORTANT NOTE:
Strange Chests will disintegrate after 06:00 server time, January 5, 2022. Be sure to open all of them before the event ends!
---
Nocturne Lore
Engineered by the Shadowbinder herself to be covert, hidden, and adaptable, Nocturne dragons have the incredible ability mimic the sounds, motions, and behaviors of other dragons and creatures. This interesting adaptation can have its drawbacks, though. Find out more about the Shadowbinder's sneaky sentinels in the lore article below: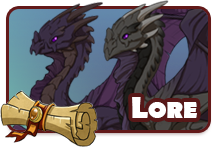 ---
What's New This Year?
Another year brings new chances at unique
Night of the Nocturne
exclusive items! Here are some of the
new items
you can expect to see as part of the event. As the event has grown over so many years, we slowing new additions; you can still expect to see a modest selection of new content each year, and the return of the hoard of content from previous years!
Strange Chests
In addition to previous years' prizes, the following items now also have a chance to appear within
Strange Chests
:
Treasure Marketplace
The following items have a chance to stock in the
Treasure Marketplace
:
Gem Marketplace
The following items have stocked in the
Gem Marketplace
:
Baldwin's Bubbling Brew
The following new items can now be crafted within
Baldwin's cauldron
:
Level 3:
---
Returning Items
While everyone will no doubt be hunting for the new items, you'll also have a chance to get your hands on
items from past incarnations of Night of the Nocturne
!
Strange Chests
The following items will be making an reappearance within
Strange Chests
. Most of these items will show up at a lower rate than that of newer items above.
Treasure Marketplace
The following items have a chance to make a reappearance in the
Treasure Marketplace
:
Gem Marketplace
The following items have restocked in the
Gem Marketplace
:
Baldwin's Bubbling Brew
The following returning items can once again be crafted within
Baldwin's cauldron
:
Returning Level 1 Recipes:
Returning Level 2, 3 Recipes:
Returning Level 4 Recipes:
Returning Level 5 Recipes:
Returning Level 6 Recipes:
Returning Level 7 Recipes:
Returning Level 8 Recipes:
Returning Level 9 Recipes:
Returning Level 10 Recipes:
Returning Level 11 Recipes:
Swipp's Swap Stand
Not to be outdone,
Swipp, Pipp, and Tripp
are rolling their cart throughout the realm, taking advantage of the festivities. They'll once again have the following
trades
available: