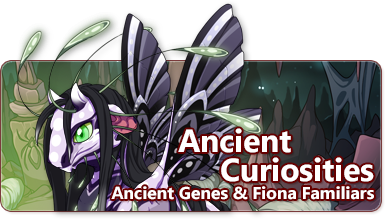 Curious new genes are manifesting on ancient dragons.
---
Ancient Tertiaries
Three new unique genes have been released for our ancient breeds! Gliders (Banescale) can be rarely found by battling on the
Volcanic Vents venue of the coliseum.
Angler (Veilspun)
can be created by alchemists
level 26
and above at
Baldwin's Bubbling Brew
.
Pinions (Gaoler)
can be purchased in the
gem marketplace
.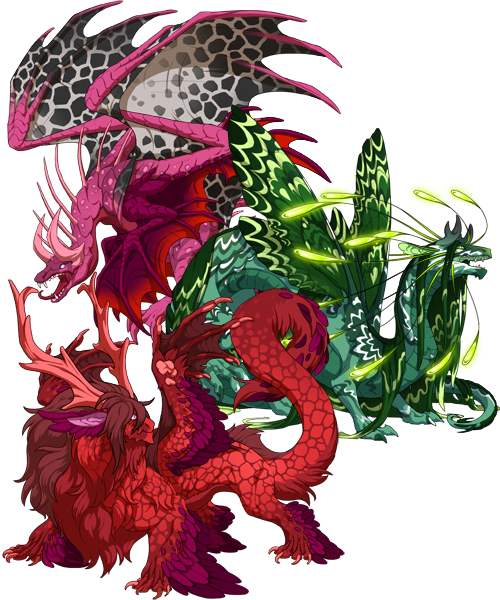 ---
Fiona's Sanctuary Needs Help...
Fiona continues to assist and collect rare and unusual familiars. She just can't say no to those big, small, multifaceted, sinister, or brilliant eyes when they look up at her!
Help Fiona take care of her familiars
and get to know them better. When you do so, you'll unlock new and exciting familiars for your own menagerie! New Fiona familiars and feats now available!
---
On the Horizon
The
Flight Rising
team has been hard at work on Night of the Nocturne 2021, Arlo's Ancient Artifacts, and the next Ancient breed. We wanted to let you know that while we had hoped that the next Ancient would be released this year, it will be delayed until early first quarter 2022. We're still putting on the finishing touches and don't want to crunch our artists to finish in the next week. We also don't want to release mid
Night of the Nocturne
, allowing the site's traffic to perform better and our team to have some time off for the holiday season.
Thank you for your patience! We look forward to releasing these cantankerous dragons in 2022!
---
Seasons Come, Seasons Go
Right on schedule, the seasons are here to usher us into a new phase of the year.
Right after rollover on December 21
, autumn-themed items will cycle out of the
Marketplace
and
winter-themed items will cycle in
!
---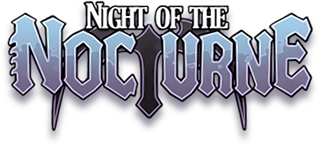 December 19 - January 2
The mischievous Nocturne dragons return for their annual fortnight of mayhem. Strange and whimsical creatures and items will start appearing all over Sornieth. Get your hands on
apparel
,
vistas
, and
familiars
specifically unique to this event!
It's also the only part of the year where you can obtain
Breed Change: Nocturne
and
Unhatched Nocturne Egg
!
---
Additional Updates
Giraffe and Hex on Obelisks now has the corrected line/under color.