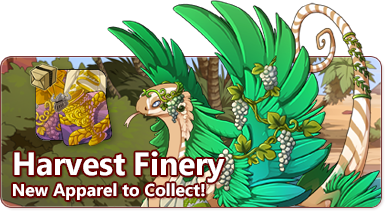 Festive grapes and robes are here for the dragons to revel in!
---
Harvest Celebration
Robes and finery celebrating a bountiful harvest are now appearing in the
treasure marketplace
. These items will stock randomly throughout the day, so you never know when a piece of apparel or a bundle will appear!
Golden Harvest Celebration
Viridescent Harvest Celebrat
Indigo Harvest Celebration
The new vermilion harvest finery has a chance to drop from enemies in the
Waterway venue in the coliseum
.
Vermilion Harvest Celebratio
The hazel harvest finery may be bartered for from
Swipp and his clan
. Just one trade will yield two pieces of random apparel from the set!
Hazel Harvest Celebration
---
Thundercrack Carnivale Skin & Accent Contest
The ninth annual Thundercrack Carnivale will begin July 25th, and we're running a skin and accent contest in celebration!
Click here for more information!