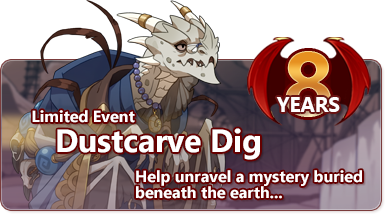 Flight Rising's eighth year in operation
starts with blast—or in this case, some blasting powder—as the dragons of Sornieth flock to assist Velya and the Dragonhome Preservation Guild wind their way through ancient caverns just recently unearthed...
---
Eight Years? Eight Years?!
It's hard to believe another year has gone by, but our
eighth anniversary
celebration is upon us.
Flight Rising
is as strong as ever, with a whole ton more in store. We can't thank you enough for all the stories and laughter and artwork and creativity you've shared with us. Here's to a great eight!
Let's take a trip down memory lane and reflect back on some of the
cool stuff
that expanded
Flight Rising
last year:
We launched the Silhouette Scroll, which applies a permanent toggle to a dragon that allows it to change its pose to the other artwork available for its breed.
At long last, the Hoard and Vault were revamped, adding many new functions and increased usability.
Our newest ancient breed, the tiny tricksters of Shadow, the Veilspun, came out of hiding.
The World Map Revamp was launched, improving and expanding the world of Sornieth with rich, animated artwork and brand new locations to discover.
The revamped Marketplace was deployed, bringing us ever closer towards our goal of refactoring the Flight Rising codebase and improving features in the process.
After feedback from the Flight Rising community, we made adjustments to the Eye Type system, allowing natural eye types to be acquirable both randomly via breeding, and also as eye vials in the Marketplace.
Boreal Wood turkeys changed their migration pattern and now appear year-round in the Coliseum.
We had a great time with another Item Caption Contest.
Multiple new feats were added to Fiona's Fantastic Familiars.
Redrock Cove, Sandswept Delta, and Forgotten Cave saw revamps, adding more varied enemies and loot to their rosters.
Pinkerton's Plundered Pile received a visual makeover.
Several new familiars, scenes, apparel items, and vistas were released.
We expanded the number of dragon slots in the Lair and Hibernal Den.
The following
genes
were launched:
Mosaic
Breakup
Koi
Braids (Gaoler)
Stained (Gaoler, Banescale, Veilspun)
Underbelly (Veilspun)
Laced (Gaoler)
Edged (Gaoler)
Tapir (Banescale)
Striation (Banescale)
Clown (Banescale, Gaoler, Veilspun)
Eye Spots (Banescale, Gaoler, Veilspun)
Falcon (Banescale)
Peregrine (Banescale)
Ripple (Banescale, Gaoler)
Current (Banescale, Gaoler)
Giraffe (Banescale, Veilspun)
Hex (Banescale, Veilspun)
A number of
quality of life improvements
were implemented, including:
After exalting a dragon, players now have the option to return to the lair (the exact lair page the dragon was on) or view the exalted dragon.
Dragon apparel selection has been updated. Category tabs have been scaled down to make room for more search results. To aid apparel browsing, without loading excessive items, each search page will now include up to 120 results - a 5x increase.
You can now search for familiars by nickname in the Bestiary and Familiar Select pages. The Bestiary also displays nicknames.
The Higher or Lower Fairgrounds game has been updated. In addition to many behind-the-scenes improvements, game button placement has been modified so that it's easier to progress through rounds.
You can now choose whether attaching an item to a private message or Crossroads trade will automatically select a single item or a full stack. This option is listed as Item Select Quantity under account settings.
---
Sitewide Effort: Dustcarve Dig
As the
main attraction
for this year's festivities, we've kicked off a
limited sitewide event
called the
Dustcarve Dig
. This event is unlike any that we've run on
Flight Rising
before, so without ruining some of the surprises around the corner, we'll detail a bit about
how it works
.
Premise
Velya (first featured in our
Ancient Fascinations
lore story) and the Dragonhome Preservation Guild have had enough on their plates with the sudden influx of visitors and adventurers to the
Colonnades of Antiquity
, but now they're grappling with a seismic issue that may upend Sornieth life as we know it. In order to unearth the secrets surrounding this recent event, they've kicked off a
massive collaborative project
called the Dustcarve Dig, and are going to need the help of every flight to see it through.
How it Works
Working through a series of planned
milestones
(phases),
Flight Rising
players will be asked to
find and contribute vital supplies
to help Velya's dig team tunnel deep into the earth. These supplies will
drop randomly any time players perform normal tasks on the site
. Almost every feature has a chance to yield these important items, and the dig team will need vast amounts of them to make progress. Thankfully, there are a lot of you!
Here are the features that will yield event-related items:
Starting a new nest by breeding two dragons.
Hatching a fully-incubated nest.
Performing any type of gathering skill.
Collecting a transmuted slime/goo at Baldwin's Bubbling Brew.
Exalting dragons.
Performing swaps at Swipp's Swap Stand.
Trading items for gold at Crim's Collection Cart.
Answering trivia questions correctly at Tomo's Trivia Tablet.
Bonding with familiars.
Claiming an item from Pinkerton's Plundered Pile.
Battling monsters in the Coliseum.
Once the requisite number of items have been turned in for the active milestone, it will be considered complete, and the dig team will take a much needed rest to prepare for the next phase. At that time, players who participated in the milestone will be able to
collect rewards
for helping.
(NOTE: You can identify when the event is accepting items by checking website's main page banner, which will indicate whether the dig is in an active state (green flag) or a rest state (orange flag with ZZZ).)
Participation & Rewards
It is purposely very easy to participate in the event, and the Dustcarve Dig will reward players in
two ways
:
Per Milestone: If you turn in at least one (1) item during a milestone, you will receive a reward for participating in that milestone. There are five (5) milestones for this event, so if you turn in an item for each, you'll get five (5) milestone rewards in all.
Event Conclusion: If you turn in at least one (1) item in at least one (1) milestone during the entire run of the event, you will receive a reward for participating in the event when it has fully concluded. We encourage all players to participate in at least one (1) milestone, because the event reward is very special!
Event Pacing
While the act of collecting and turning in items in a milestone will update dynamically, and milestones will conclude on their own, the act of kicking off new milestones is a
manual process
that the development team of
Flight Rising
will be controlling. This is primarily so that our team can be present for support, monitoring, and the fun of the event without necessitating any of our team members needing to stay up at odd-hours to watch milestones changeover or the event rapidly conclude. As we've said before, we don't exercise crunch at our company, and prefer our employees work fairly standard hours for their own well-being. This is part of that promise.
While we won't be able to give a definitive time that milestones will begin, you can expect that they'll likely be sometime early in the day when the majority of our team starts work and is present.
---
Anniversary Gift
As a way of saying thank you and celebrating
Flight Rising's
anniversary,
Galore
will be giving out the following
scene
to all players, which will be collectible until
Monday, June 14 at 23:59 server time
.
It will also be possible to brew extra copies of this scene at
Baldwin's Bubbling Brew
for the same duration.
Flight Rising Developer
Project Management
|
Engineering Team Cheerleader
|
UI Designer