In today's update, we're laying out a few details about our impending launch of the
Marketplace Revamp
!
A majority of
Flight Rising's
major features have been refactored and revamped in our ongoing quest to optimize and upgrade the code base, and
Marketplace
is next on the list! Below, we detail some of the
details and enhancements
you can expect when the revamp launches in the near future.
---
Tabs That Make More Sense
A lot of the feedback we received in the Suggestions forum was about
how Marketplace merchandise was organized
. To use a specific example: when the site first launched, there weren't very many specialty items, and so having them all share the same tab wasn't much of an issue. Since then, however, we've added dozens of new genes, expanded item categories into Vistas and Scenes, and the specialty tab was becoming simply overloaded and difficult to browse.
With this revamp, and after analyzing player behavior as well as reading your feedback on how you like to browse, we've made the following changes that we feel will ease some of the pain of looking for the items you want:
Genes and Breed scrolls have been moved to their own dedicated tab.
Scenes and Vistas have been moved to their own dedicated tab.
[Caption: A screenshot showing Marketplace with its additional new Genes and Scenes & Vistas tabs.]
---
Would it be a Feature Revamp Without More Searching and Filtering?
Another area that we received lots of feedback about was that
there really was no direct way to search or filter the currently stocked items
. Good news, everyone! Utilizing the same new tech that we employed in other revamps,
we're bringing expanded search and filter parameters to the Marketplace
.
It will be possible to filter results in most tabs by things like
name
,
minimum/maximum price
,
color
, whether the item is or isn't present in your
Hoard or Vault
, etc.
And perhaps the most popular request we receive is the ability to simply do this:
[Caption: A screenshot of a dropdown window in Marketplace depicting that it is now possible to filter genes, either by modern breeds or individual ancient breeds.]
---
Flash Sales
A new addition to the Marketplace Revamp is
flash sales
. Twice a day, an item will be chosen for the flash sale and
be sold at a discount for 12 straight hours
, regardless of when Marketplace goes through its typical rounds of restocking. This item will also stock in
unlimited supply
, so most players that want to get in on the sale will have a fairly ample window of time to take part!
(NOTE: Flash sales and dominance discounts cannot be combined. If the player's flight is currently dominant, the item will sell at the flash sale price since the discount it is greater than the dominance discount.)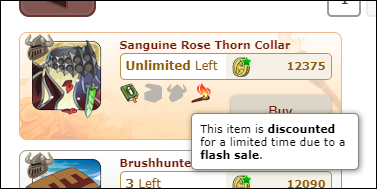 [Caption: A screenshot of Marketplace depicting what it will look like when an item has been chosen for a promotional flash sale.]
---
Taking Stock of What You Have
In the current version of Marketplace, we do communicate on some tabs whether you have an item in your inventory, but the functionality is fairly basic. We're expanding this idea to all tabs and will be giving
extra context on just how that item is part of your account
, and even using the new functions of the Hoard and Vault to help you get to it easier.
For instance, say that you're browsing the Scenes & Vistas tab, and you locate a vista you really like but can't remember if you've purchased already. In the Marketplace Revamp, there will be two icons next to the item:
Treasure Chest Icon: Indicates whether or not you have an extra copy of the item in your Hoard and/or Vault.
Picture Frame Icon: Indicates whether or not you have the vista either applied to your account already, and/or if you're using it on a dragon's profile.
If you have an
extra copy
of the item, you can click or tap the treasure chest icon to be taken to exactly where it exists in your Hoard or Vault.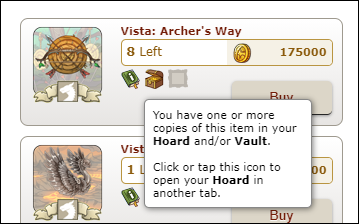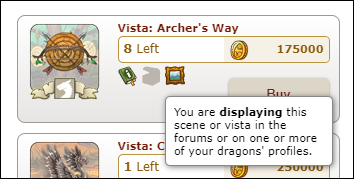 [Caption: Screenshots of Marketplace showing what it looks like when browsing a forum vista that you already have a copy of or already have applied to your account.]
---
The Marketplace Revamp is nearing the end of development and is currently going through testing and final polish. We hope to have it launched very soon! Although the feature is nearly finished, please don't hesitate to provide feedback in the
Suggestions forum
; we're always reading and considering new ideas.
Flight Rising Developer
Project Management
|
Engineering Team Cheerleader
|
UI Designer