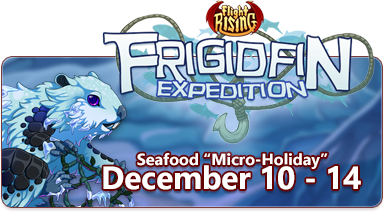 Another chilling winter is about to howl across the realm and dragons everywhere are taking advantage of an unusually bountiful
fishing
season!
---
The
Frigidfin Expedition
, one of
Flight Rising's
quarterly "micro-holidays", is in full swing! From
Thursday, December 10th
(06:00 Server Time) to
Monday, December 14th
(06:00 Server Time), all players will experience a couple of battle-related
boosts
!
Bountiful Battles
For the duration of the Frigidfin Expedition, all
all Coliseum enemies will have the chance to drop seafood items in addition to their normal loot
. Dragon clans everywhere are taking this time to
stock up
on fishes, clams, sharks, sponges, corals, snails, shrimp and more to feed them through the winter.
Battle EXP Boost
During the event, all battles will yield
50% additional EXP
, so now is a perfect time for dragons to train. Grab your newest team and head out into battle!
Furry Fishers
Dragonkind are not the only ones taking advantage of the prosperous fishing season. As the oceans, lakes, and rivers teem with life, enterprising critters rush the shores. A few unique species of beaver capitalize on this seafood surge, catching fish not only for themselves, but as currency in a primitive barter system with waterfaring dragon clans. For the duration of the Frigidfin Expedition, these toothy familiars will
drop fairly commonly in the Coliseum and rarely during Fishing
. Once the expedition has concluded, they'll go back into hiding, but may run into one or two while
Fishing
.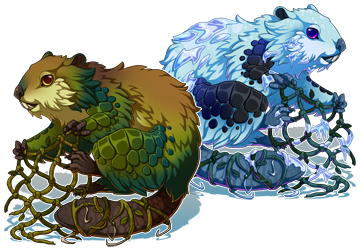 NOTICE: Experimental Item
As we continue to improve the backend functionality of the site and refactor its codebase, we're also taking the time to improve some of the tools we use to implement content.
Recently, we did a major overhaul to our item system to include better support for containers that have the potential to drop a random assortment of a defined pool of items. We plan to use this system for the
Strange Chest
that drops during
Night of the Nocturne
, and for other items with similar functionality which takes a few more fairly engineer-heavy processes and places them into the hands of our content creation team.
(NOTE: Right now, we're building this system to replicate/replace the functionality of items that exist and behave that way already, and provide support for similar items in the future should we need it. There is no current plan to make random contents chests a huge focus going forward.)
To test-drive this new chest functionality,
you may see the following item during Frigidfin Expedition
:
This item will rarely drop during Frigidfin and
has a chance to drop a small, randomized set of common seafood items that already exist
. We want to stress that this is our
public way of testing a system and there isn't inherently anything special about this item
, but it will allow us to make sure the system works in a fairly low-risk environment.
If everything works out, great! If it doesn't, then we gained some valuable information ahead of
Night of the Nocturne
and can make sure everything works before then. We haven't yet made the decision of whether or not we'll add similar items into subsequent micro-holidays (like the upcoming Springswarm 2021).
Should you encounter any issues with this item after finding it and trying to open it, please let us know in the
Bug Report Forums
.
---
Seasons Come, Seasons Go
Right on schedule, the seasons are here to usher us into a new phase of the year.
Right after rollover on December 21
, autumn-themed items will cycle out of the
Marketplace
and
winter-themed items will cycle in
!
---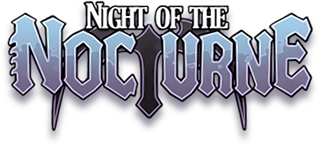 December 20 - January 3
The mischievous Nocturne dragons return for their annual fortnight of mayhem. Strange and whimsical creatures and items will start appearing all over Sornieth. Get your hands on
apparel
,
vistas
, and
familiars
specifically unique to this event!
It's also the only part of the year where you can obtain
Breed Change: Nocturne
and
Unhatched Nocturne Egg
!