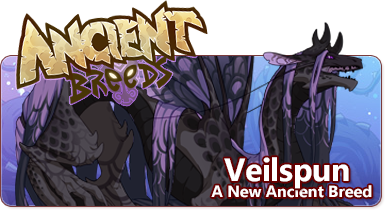 Once only a blur in the periphery, now brought into focus!
We're excited to announce that the next addition to our
ancient breeds
system, the
Veilspun
, have now been launched. Ancient Breeds are a way for the
Flight Rising
team to
release more regular dragon content
, with a few
restrictions
to make that possible. You can read about the ancient breed system in our
Developer Update
on the subject.
Veilspun
Relegated to fable and hearsay, the diminutive Veilspun have gleefully enjoyed the air of mystery surrounding their existence. The eons spent tricking and hypnotizing their younger cousins have come to an end—
mostly.
Recent events in the Forum of the Obscured Crescent have seen Shadowbinder bringing her lost children to the forefront.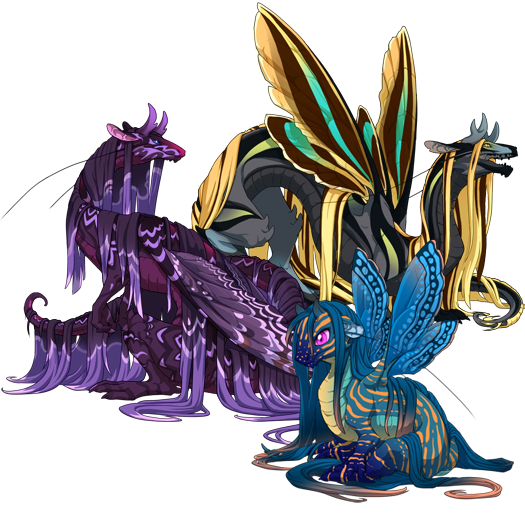 Veilspun have emerged from hiding to join their swarms to the clans of Sornieth!
You can read more about the return of the Veilspun in our short story,
Unveiled
, and gain some knowledge of their characteristics in the
Encyclopedia
.
Willowmane Deerlings
To celebrate the debut of the Veilspun breed, all active players can, at this moment, visit
Galore's Glorious Gifts
and receive the limited
Willowmane Deerling
familiar along with a food care package. Additional copies of this familiar can be crafted at
Baldwin's Bubbling Brew
until November 19th at 09:00 server time, after which they will be retired.
Fiona
quickly took to the deerlings, and even managed to discover a new variant -as she does.
You will have until
Thursday, November 19th at 09:00 server time
to claim your gifts.
If you're looking to change your dragons into Veilspun, breed change scrolls will be stocking in the
Gem Marketplace
.
Veilspun Genes: Unique & Parallel
It wouldn't be an Ancient Breed release without an impressive slate of
unique
and
parallel
genes!
Unique Genes
You can pick up the following
unique
Veilspun genes in the
Treasure & Gem Marketplace
:
You can create the following
unique
Veilspun genes using
Baldwin's Bubbling Brew
:
You can find the following
unique
Veilspun genes by battling monsters in the
Coliseum
:
You can find the following
unique
Veilspun genes by trading items at
Swipp's Swap Stand
:
Parallel Genes
In addition to the unique genes above,
Veilspun can also exhibit parallel genes
that resemble those found in modern dragons. These genes will be available through the same type of gameplay that their identical counterparts are. The
parallel genes
releasing today are:
Veilspun Forum Vista
You can show off your newfound Veilspun appreciation by sporting the following
forum vista
, now available in the
Treasure Marketplace
:
New Emojis
A set of adorable
Veilspun emojis
are now available!
Known Issues
A technical bug resulted in the male Veilspun's teeth being black. We have identified the cause of the issue and will be making fixes throughout the launch day. It's possible that once fixes go live, it will be necessary to forcefully clear your browser's cache.
We are currently investigating a few reported art errors with the following Veilspun genes: Constellation, Starmap (f veilspun has swirls at incorrect opacity. Fix coming in soon. Male and hatchling correct), Corrected! Web, and Shell (These were fine).
Rockbreaker's Ceremony Skin & Accent Contest
The eighth annual Rockbreaker's Ceremony will begin on November 22nd, and we're running a skin and accent contest in celebration!
Click here for more information!