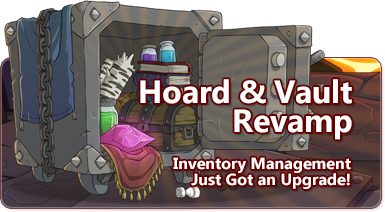 Our revamp to the Hoard and Vault systems is now live! This update includes major improvements to
searching
,
navigation
,
organization
, and
item usage
.
---
Hoard/Vault Revamp
Today, we're happy to launch our
revamp of the Hoard and Vault systems
, both of which have received
significant improvements
from top-to-bottom!
Improved Searching and Filtering
One of the top suggestions in the Suggestions forum
was a search feature in both the Hoard and Vault,
as it would enable you to find easily and efficiently find items. We've implemented robust and comprehensive search options to many previous revamps, and this addition is a continuation of those long-term design goals.
We're excited to share with you the different ways that the Hoard and Vault now support narrowing down your item searching, including:
Searching by name
Filtering by stack size
Filtering by item subcategory
Filtering by item rarity
Filtering by item color
Filtering by item's usage in other game features.
Sorting items alphabetically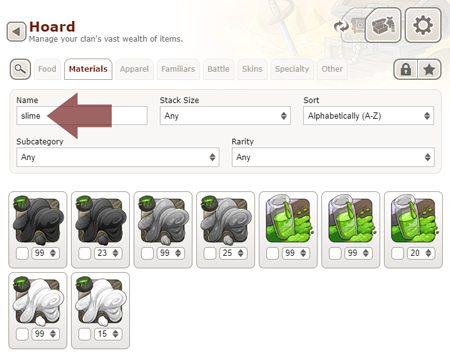 Searching for the term "slime" filters the results to only items with the word "slime" in their name.
Item Interaction Window
While the legacy Hoard allowed for simple functions for only a few types of items (e.g. opening chests, applying genes and vistas, etc.), the revamp now
expands the amount of available functions
you can perform on a single stack of items.
We handle this through the new
item interaction window
, which appears when you click on the icon for any stack of items (the term "stack" meaning anything from 1-99). Each item's interaction window will display a custom array of buttons that will allow you to perform
several actions
, including (but not limited to):
Converting food items to food points
Opening container items
Previewing items like familiars, apparel, skins, vistas, and scenes
Transmuting a single item from the stack at Baldwin's Bubbling Brew (provided his cauldron is empty)
Selling the selected item
Selling all duplicates of the selected item, should you have more than one stack of it
Listing the selected item for auction
Storing the item in your Vault or withdrawing the item to you Hoard
You can dismiss this window by clicking or tapping anywhere else on the page.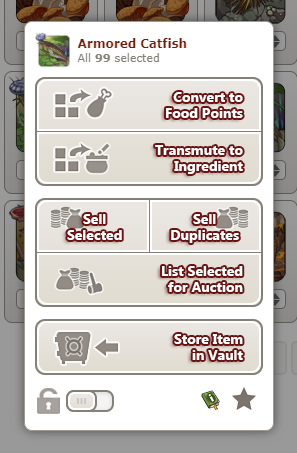 The item interaction window for the food item Armored Catfish, showing the array of new actions that can be performed on the stack.
Opening Chests with Random Contents
To expand upon the new actions available in the item interaction window, we've made some improvements to the act of
opening chests that have randomized contents.
In the legacy version of the feature, it was only possible to open these items one-at-a-time (1). In the revamp,
we've increased that count to ten-at-time (10)
. This should make cracking open stacks of these chests a little bit easier!
A dialog window asking if the player would like to open ten (10) Iron Treasure Chests at the same time.
Locked Items & Favorites
At the very bottom of the item interaction window, you'll notice two toggles:
Lock
This toggle
locks all instances of the item in your Hoard from being able to be sold for treasure
. In the case of food items, it also
prevents them from being converted to food points
. If you're holding onto some items for a special purpose, objective, or sentimental value, this is a great way to safeguard them. Locked items will be denoted by
reduced opacity
for the item container.
Favorite
This toggle
favorites all instances of the item in your Hoard
. While this toggle doesn't prevent using or selling the item, it can provide you an extra way of classifying items that you like or that are important to you. Favorite items are denoted by a
yellow star
in the top right corner of the item container.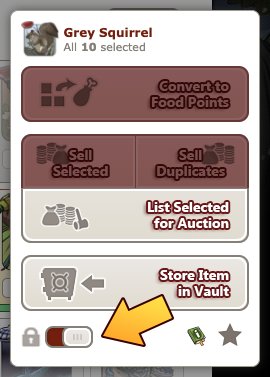 The location of the lock toggle on the item interaction window, as well as evidence that selling the item has been restricted due to the toggle's state.
A selection of items in the Hoard, some having been locked or favorited by the player.
Both toggles also have accompanying
Quick Filter buttons
in the top right corner of the Hoard that, when activated, will show you only items that have been toggled into that state.
The locked items Quick Filter is enabled, showing only those food items that have been set to a locked state.
Additional Hoard Options
In addition to everything listed above, we've launched the feature with a few expanded options that you can enable by clicking or tapping the gear icon in the top corner of the page.
Virtual Stacks
Like to keep a tidy Hoard? It is now possible to
collapse identical items down into what we're calling "virtual stacks".
Example: If you have three (3) stacks of the same item, all in quantities of ninety-nine (99), enabling this option would collapse them down into a single "virtual stack" of two hundred ninety-seven (297).
Even cooler,
this option affects items that don't typically stack above one (1)
, like familiars and apparel. We hope it's useful for people who like to keep their inventory concise and orderly.
A selection of familiar items; some that have duplicates have been collapsed into "virtual stacks".
A specialized view of a "virtual stack" of plant food items showing that it is comprised of six (6) individual stacks.
Useful Items for Other Features
This next one is one we're particularly excited about. Once this option is enabled,
items that have multiple important uses in other site features
have their usage case(s) denoted at the bottom of the item container in the form of
colorized bars and icons
. Mousing over those bars will tell you what the item is useful for.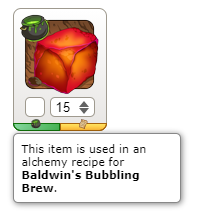 A screenshot depicting the multiple uses for the item Sizzling Phosphorous. The colored bars and icons indicate it is useful in Baldwin's Bubbling Brew and for a Hibernal Den task.
Items Per Page
When we first developed
Flight Rising
, we designed a lot of our features to work well within a screen resolution that simply isn't that standard anymore. Now that mobile browsers and huge desktop/laptop monitors are commonplace, we wanted to give players more options for showing items per page.
It is now possible to
show up to fifty-six (56) items
per Hoard/Vault page!
With 56 items shown per page, those that don't vertically fit on the page have been partially obscured by a gradated horizontal bar of item actions. A pair of downward arrows indicate that the player can keep scrolling to see more items.
Self Service: Item Restoration
The launch of this feature revamp also includes a
brand new option
in our
Self-Service support menu
. If you make a mistake in hoard-selling an item or multiple items, it is possible to
buy them back
(for a markup) using this option.
A screenshot depicting the Self-Service hub, including the new option for Item Restoration.
---
Thanks to everyone who provided feedback over the years about the Hoard and Vault through our Suggestions Forum, as well as those who interfaced with us between the Dev Update and now. Almost all of the major improvements to these systems were a result of your voices.
We're excited to finally launch another major feature in our sitewide refactor, which is now getting pretty close to completion. It's been a long, challenging journey, but along the way,
Flight Rising
has gotten better for it, and we appreciate you hanging out with us while we make that trip!
Flight Rising Developer
Project Management
|
Engineering Team Cheerleader
|
UI Designer