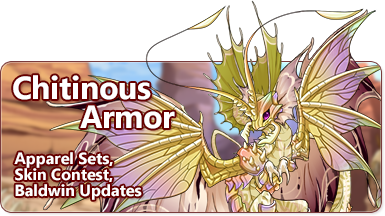 Segmented armor sets are being donned by dragon clans in preparation for battle.
---
Chitinous Armor
Not one to waste a valuable resource, dragons have begun finding uses for some of the inedible carapaces that have been piling up behind the lair. Chitinous armor is now appearing in the
treasure marketplace
, and rarely from randomized chests and Pinkerton!
Creeping Chitin
Gleaming Chitin
Skittering Chitin
Unyielding Chitin
Skulking Chitinous Armor now has a rare chance to drop from the Forgotten Cave venue of
the coliseum
.
Skulking Chitin
Fixes will be going in later today for:
Arm guards on bogsneak female

Arm guards on imperial female

Chest piece on skydancer male

Chest piece on skydancer female

Chest piece on coatl male

Leg guards on bogsneak male

Leg guards on spiral male

Leg guards on spiral female

Leg guards on wildclaw female

Wings on mirror male

Wings on fae female

Wings on imperial male
---
Riot of Rot Skin & Accent Contest
The eighth annual Riot of Rot will begin October 25, 2020, and we're running a skin and accent contest in celebration!
Click here for more information!

---
Baldwin Brew Time & XP Changes
Alchemists rejoice!
The level cap has been raised
, and our
mad
brilliant scientists may now reach
level 28
in alchemy.
Glass Beaker - 35 min --> 30 min
Peridot Roundhorn - 100 min --> 75 min
Obsidian Roundhorn - 100 min --> 75 min
Amethyst Roundhorn - 100 min --> 75 min
Glowing Blue Clawtips - 100 min --> 75 min
Glowing Gold Clawtips - 100 min --> 75 min
Glowing Purple Clawtips - 100 min --> 75 min
Glowing Red Clawtips - 100 min --> 75 min
Glowing Orange Clawtips - 100 min --> 75 min
Glowing Green Clawtips - 100 min --> 75 min
Sentient Alloy - 120 min --> 110 min
Magister Footies - 300 min --> 200 min
Magister Collar - 300 min --> 200 min
Magister Mitts - 300 min --> 200 min
Magister Tail Sleeve - 300 min --> 200 min
Magister Overcoat - 360 min --> 200 min
Magister Rings - 360 min --> 200 min
Magister Waist Wrap - 360 min --> 200 min
Empathetic Regeneration - 130 min --> 125 min
Plumed Anticipate - 150 min --> 125 min
Prismatic Meditate - 350 min --> 125 min
Rosetail - 240 min --> 160 min
Tropical Caiman - 240 min --> 160 min
Gold Earrings of Alchemy - 180 min --> 120 min
Copper Earrings of Transmutation - 180 min --> 120 min
Darksteel Earrings of Necromancy - 180 min --> 120 min
Pearly Earrings of Chemistry - 180 min --> 120 min
Silver Earrings of Science - 180 min --> 120 min
Gold Amulet of Alchemy - 180 min --> 120 min
Copper Amulet of Transmutation - 180 min --> 120 min
Darksteel Amulet of Necromancy - 180 min --> 120 min
Pearly Amulet of Chemistry - 180 min --> 120 min
Silver Amulet of Science - 180 min --> 120 min
Gold Cuffs of Alchemy - 180 min --> 120 min
Copper Cuffs of Transmutation - 180 min --> 120 min
Darksteel Cuffs of Necromancy - 180 min --> 120 min
Pearly Cuffs of Chemistry - 180 min --> 120 min
Silver Cuffs of Science - 180 min --> 120 min
Kelpie - 500 min --> 250 min
Swamphaunt Kelpie - 500 min --> 250 min
Anomalous Skink - 400 XP --> 900 XP
Conjoined Skink - 400 XP --> 900 XP
Tertiary Gene Scales - 710 min --> 500 min | 1750 XP --> 2500 XP
Marsh Frog Companion - 600 min --> 450 min
Amberwing Waveskimmer - 500 XP --> 900 XP
Great Blue Waveskimmer - 500 XP --> 900 XP
Gray Plague Doctor Mask - 195 min --> 180 min | 300 XP --> 500 XP
Brown Plague Doctor Mask - 195 min --> 180 min | 300 XP --> 500 XP
White Plague Doctor Mask - 195 min --> 180 min | 300 XP --> 500 XP
Irradiated Alchemical Reduction - 180 min --> 120 min | 280 XP --> 350 XP
Primary Gene: Skink - 720 min --> 500 min | 1850 XP --> 2500 XP
Secondary Gene: Spinner - 720 min --> 500 min | 1850 XP --> 2500 XP
Horned Frog Companion - 600 min --> 450 min
Juvenile Starsweeper - 400 XP --> 1000 XP
Lesser Wisp - 400 XP --> 1000 XP
Mysterious Mantle - 325 XP --> 600 XP
Burlap Mantle - 325 XP --> 600 XP
Red Mantle - 325 XP --> 600 XP
Whisperer's Mantle - 325 XP --> 600 XP
Peacebringer's Mantle - 325 XP --> 600 XP
Twice-Dyed Mantle - 325 XP --> 600 XP
Desert Rain Frog Companion - 600 min --> 450 min